Associate Degree in Respiratory Therapy
On this page:

About This Program
Respiratory Therapy is an allied health specialty involved with the evaluation, treatment, management, diagnosis and preventative care of patients with cardiopulmonary problems. Respiratory therapists are the healthcare professionals who care for people with breathing problems. Respiratory therapists treat and work with people of all age groups, including premature infants, children, adults and the elderly. Currently there are numerous opportunities within the state of Maine and beyond to work as a respiratory therapist.
As a valued member of the healthcare team, you can choose to specialize in areas such as general patient care, critical care, home care, pulmonary diagnostics, sleep medicine, neonatal intensive care, patient education and more. Respiratory therapists are employed in hospitals, long-term care centers, home care companies, doctors' offices, sleep clinics and pulmonary function labs.
The SMCC Respiratory Therapy Program is run in close cooperation with clinical affiliates, including Maine Medical Center and Mercy Hospital in Portland; St. Mary's Regional Medical Center and Central Maine Medical Center in Lewiston; Southern Maine Health Care in Biddeford; Mid Coast Hospital in Brunswick; Maine General Medical Center in Augusta; and Wentworth-Douglas Hospital in Dover, New Hampshire. The program maintains accreditation through the Commission on Accreditation for Respiratory Care.
SMCC has a transfer agreement with the University of Southern Maine in Health Sciences, providing respiratory therapy graduates the opportunity to complete their baccalaureate degree.
To explore the Respiratory Therapy profession, visit the American Association for Respiratory Care website.
To learn about credentialing visit the National Board for Respiratory Care website.
For program accreditation information, visit the CoArc website.
Additional Admissions Requirements
Please note that our Health Sciences programs have additional requirements. For more information, visit our Health Science Applicants webpage.
Your Degree Courses
Respiratory Therapy offers an Associate of Science degree requiring a mix of general education and hands-on courses. The following courses are a sampling of what you might take as a student in this program and are subject to change.
Program Course Sampling
Anatomy & Physiology I & II with Lab
Pathophysiology
Introduction to Respiratory Therapy/Patient Care
Gas, Humidity, and Aerosol Therapy with Lab
Pulmonary Assessment Technology with Lab
Airway Management with Lab
Cardiopulmonary-Renal Anatomy & Physiology
Pharmacology
Current Major-Specific Courses Available
Interested in seeing some of the current major-specific courses being offered as a part of this degree program?
Graduation Requirements
Prospective Students
If you are thinking about attending SMCC and are curious what the current program course requirements are to earn your degree, download the current SMCC Course Catalog.
Current Students
If you are a current student, your program requirements may be different than those listed for the current catalog year. To view your specific program requirements or to search and register for courses, log in to MySMCC and visit the MyDegree webpage.
Program Goals
To prepare graduates with demonstrated competence in the cognitive (knowledge), psychomotor (skills), and affective (behavior) learning domains of respiratory care practice as performed by registered respiratory therapists (RRT's).
Estimated Degree Completion Time

Please note, these estimates are based on a student taking an average of 15 credits per semester and do not include college preparatory or developmental courses.
Program Costs
View an estimate of costs to complete this program:

SMCC Graduates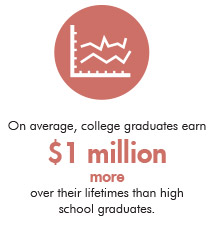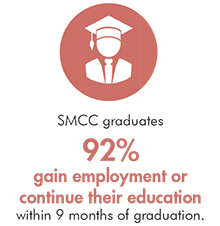 ---
Transfer Agreements for Respiratory Therapy
Health Science, BS
University of Southern Maine
SMCC Degree Program: Respiratory Therapy
View this Agreement »