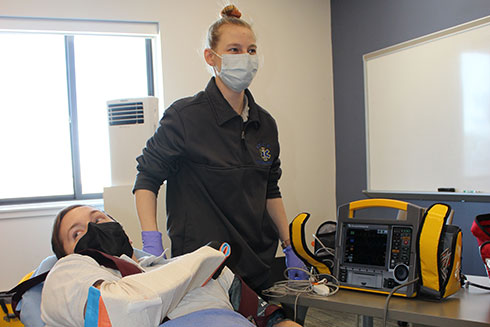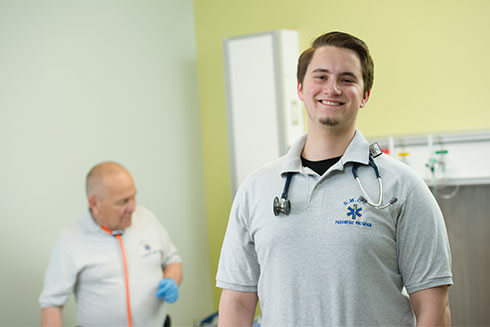 About the EMT
Training Program
No Cost to Trainees
Gain the knowledge and skills necessary to provide basic emergency medical care and transportation through lectures, practical labs, and clinical experience. Upon successful course completion, students are eligible to take the National Registry of Emergency Medical Technicians (NREMT) certification exam, at the EMT level.
What opportunities does this program provide?
Put Your Skills to Work
Students who successfully complete the course will be aligned to enter the workforce as a licensed EMT, or can continue their education to earn an Associate Degree in Paramedicine, Fire Science, Health Sciences, and more.
Continue Your Education
Interested in continuing to build your skills? Further your education by enrolling in one of our certificate or degree programs which lead to advanced and expanded career opportunities upon graduation.
Related Degree & Certificate Programs
On track for a pre-med degree.
How do I complete this program?
Browse the information below to learn what is involved in qualifying for and completing this program.
Successfully complete training in:
Basic emergency medical care and transportation
Basic level patient assessment
Airway management and oxygen administration
CPR
Spinal immobilization
Shock management
Bandaging and splinting
Medication administration
Completion Time & Location

Offered at the SMCC Midcoast Campus and SMCC South Portland Campuses.
Inquire about upcoming sessions.
Prerequisites
To qualify for this training you must meet the following prerequisites:
At least 18 years of age
High school diploma, GED, or HiSet
Resident of Maine
Proof of authorization to work in the U.S.
Testing may be required
COMPLETION TIME
16 WEEKS
*Estimated completion time.
NO COST
TO QUALIFIED TRAINEES
LOCATION
SMCC MIDCOAST CAMPUS OR SMCC SOUTH PORTLAND CAMPUS
THANKS TO THE SUPPORT OF:

The Maine Jobs & Recovery Plan