About our Business Administration
Online Associate Degree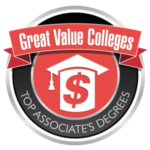 The Business Administration program provides students with a foundation in general business practices, leadership concepts and microcomputer applications. In addition to acquiring skills in accounting, finance, sales and operations, students enhance their ability to write, think, work in groups, solve problems and build confidence and the ability to succeed in the world of business.
The Associate in Science degree emphasizes math, science and core business requirements. The sequence of courses comprises the typical transfer option that many baccalaureate programs prefer, deferring many upper-level business courses until the third or fourth year.
Graduation Outcomes
Make decisions and take actions that enable businesses/organizations to earn profits and grow.
Describe and utilize the role of science, technology and market commercialization.
Demonstrate an ability to understand organizational structures.
Business Administration Online Eligibility
To be accepted into the Business Administration online program, you will need to place into college-level Math and English based on your test scores provided during the application process.
SMCC can offer online courses only in states that participate in State Authorization Reciprocity Agreements (SARA). To see if your state participates in SARA, visit the National Council for SARA website.
What opportunities does this program provide?
Launch Your Career
SMCC graduates in this program have gone on to work as:
Account Manager
Accounting Staff
Advertising & Public Relations Representative
Banking Staff
Business Owner/Entrepreneur
Insurance Agent
Marketing Specialist
Mortgage Agent
Product Manager
Sales Representative
Supervisor
Continue Your Education
Available transfer agreements for this program include:
How do I complete this program?
Browse the information below to view our program requirements and how you might complete this program.
Estimated Full-Time Degree Completion Time

Please note, these estimates are based on a student taking an average of 15 credits per semester and do not include college preparatory or developmental courses.
Interested in viewing full program and course details?
Are you a current student?
Be sure to view the degree program requirements for your specific program. Log into MySMCC and click My Maine Guide, MyDegree to learn more.
Related Programs
Not ready to commit to a degree program? We may have other options that work for you.
Did you know that we offer a broad array of short-term workforce training programs that allow you to enter the workforce and start earning quickly? These programs are a great way to enter a career in your area of interest and to become accustomed to college classes. They are also often grant-funded (free of charge to trainees). And, if you find you want to keep going, we can help you find a related academic degree or certificate program of interest with which you can continue your education.
Costs & Financial Aid
This degree program may have specific associated costs which are important to know before attending. We encourage you to apply for financial aid which provides funds in the form of grants and scholarship (free), loans (need to repay) and student employment (earned money.)
"I love being able to make a difference in students' lives, and I think we do that here. We set them up for the real world and I teach them to think outside the box. Whenever I see our alumni, they're always saying thanks for the great education they got at SMCC. It makes you feel great."
Mark Reuscher
Department Chair
"I took a gap year after high school and then came to SMCC because I had heard good things about the Business department and I could play on the soccer team. This was a good place to get my feet wet and figure out if business was the right path for me without spending a ton of money. SMCC has been an awesome step forward."
Bronson Kieltyka
Business Administration
"Besides earning my degree in Business Administration at SMCC, I served as president of the Multicultural International Student Club, as well as a member of the Business Club and the College's Diversity & Inclusion Committee. I love how diverse this school is, there are students from all over the world. SMCC is life-changing."
Zahra Abukar
Business Administration Alum
Want to learn more?
Fill out a quick form and we'll reach out to provide more info.
Ready to apply?
Learn how to apply and fill out our online application when you're ready.
Contact Us:
Admissions: 207-741-5800 or admissions@smccME.edu 
Department Chair: Mark Reuscher, 207-741-5857 or mreuscher@smccME.edu
A three-credit class averages
LESS THAN
$400
Full-time tuition & fees
$3,880
PER YEAR
*Additional program costs may apply.
3 CAMPUSES
South Portland, Brunswick & Online