Associate Degree in Health Sciences
On this page:
About This Program
The Associate of Science in Health Sciences degree provides students with introductory courses necessary for careers in healthcare administration or healthcare education or as a starting point for students interested in attaining a future professional degree in healthcare. The health sciences degree consists of foundational courses in science, English, math, social sciences, humanities and healthcare.
To complete the Associate of Science in Health Sciences degree, each student selects an area of concentration (Healthcare Administration, Healthcare Education or Healthcare Pre-Professional). The degree allows students to customize their educational pathway to meet their preliminary professional educational goals. This degree is especially appropriate for individuals interested in entering the field of healthcare with the goal of pursuing a future medical professional degree (physician, physician assistant, physical therapist and more); healthcare administration; or health education.
In addition to traditional students, the Health Sciences Degree is appropriate as an educational pathway for medical professionals who desire to advance their careers in healthcare management or education. The degree offers a combination of on-campus and online courses.
Students pursuing a Health Sciences degree may opt to complete a second major in Cardiovascular Technology, Nutrition and Dietetics, Medical Assisting, Paramedicine, Radiography or Respiratory Therapy. Acceptance into these programs is based upon application to the program and meeting minimum entrance criteria.
Additional Admissions Requirements
Please note that our Health Sciences programs have additional requirements. For more information, visit our Health Science Applicants webpage.
What tracks are available?
Health Sciences offers an Associate in Science degree requiring a mix of general education and healthcare-specific courses. Three educational pathways are available including:
Healthcare Administration – Students in this track will take a variety of business and accounting courses to provide fundamental knowledge and skills for entry-level positions in healthcare institutions.
Healthcare Education – Students in this track will develop and expand the essential teaching skills needed for patient and community education.
Pre-Professional Healthcare Provider – This track is designed for students who wish to complete the first two years of a pre-health profession program while at SMCC and then transfer to four-year academic institutions. Since the requirements of colleges and universities vary widely, it is essential that students choose an intended transfer institution as soon as possible while working closely with their SMCC advisor to carefully design a program pathway of choice.
Your Degree Courses
The following courses are a sample of what you might take as a student in this program and are subject to change.
Program Course Sampling
Introduction to Health Sciences
Medical Terminology
Medical Ethics and Law
Anatomy & Physiology I with lab
Current Major Specific Courses Available
Interested in seeing some of the current major-specific courses being offered as a part of this degree program? View the current course listings.
Graduation Requirements
Prospective Students
If you are thinking about attending SMCC and are curious what the current program course requirements are to earn your degree, download the current SMCC Course Catalog.
Current Students
If you are a current student, your program requirements may be different than those listed for the current catalog year. To view your specific program requirements or to search and register for courses, log in to MySMCC and visit the MyDegree webpage.
Graduation Outcomes
Demonstrate effective communication skills and work collaboratively with individuals and populations.
Identify and analyze ethical issues in research, health and public health.
Describe the components of health policy and healthcare systems both domestically and globally.
Develop and apply critical analysis skills to contemporary health issues.
Estimated Degree Completion Time


Please note, these estimates are based on a student taking an average of 15 credits per semester and do not include college preparatory or developmental courses.
Program Costs
View an estimate of costs to complete this program:

SMCC Graduates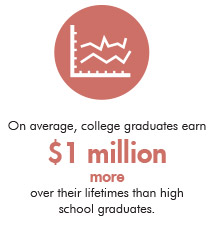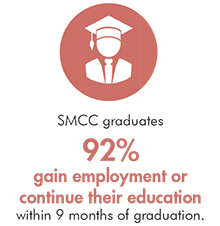 ---
Transfer Agreements for Health Sciences
BS in Medical Biology, Pre-Physician's Assistant Track
University of New England
SMCC Degree Program: Health Sciences
View this Agreement »