Associate Degree in Nursing
On this page:

About This Program
The Nursing program prepares individuals to become registered nurses at the associate degree level. Upon completion of the program, graduates are eligible to take the NCLEX Registered Nurse (RN) licensure examination for entry into practice.
The curriculum blends nursing and general education courses to provide a sound theoretical base for nursing practice. Diverse clinical experiences are concurrent with didactic experiences during the four semesters. Students are required to meet clinical objectives or obtain a course grade of C (76) or better in order to receive a passing grade. In the event of a failure, students may apply for reinstatement/re-admission to the Nursing program only once.
The Nursing program is approved by the Maine State Board of Nursing, 161 Capitol Street, 158 State House Station, Augusta, Maine 04333-0158 (207-287-1133) and accredited by the Accreditation Commission for Education in Nursing (ACEN), 3343 Peachtree Road NE, Suite 850, Atlanta, Georgia 30326 (404-975-5000). For more information, visit the Accreditation Commission for Education in Nursing website.
Please note: The Maine State Board of Nursing may refuse to grant a license on the basis of criminal history record information relating to convictions denominated in Title 5, Chapter 341, Section 5301, Subsection 2 of the Maine Revised Statutes Annotated (MRSA).
Additional Admissions Requirements
Please note that our Health Sciences programs have additional requirements. For more information, visit our Health Science Applicants webpage.
Your Degree Courses
Nursing offers an Associate in Science degree requiring a mix of general education and hands-on courses. The following courses are a sampling of what you might take as a student in this program and are subject to change. For certified LPNs, an upgrade option is also available.
Program Course Sampling
Nursing, A.S. & Nursing, A.S. LPN Upgrade Option
Anatomy & Physiology I & II with Lab
Microbiology
Nursing I–IV
English Composition
Introduction to Literature
Introduction to Psychology
Developmental Psychology
Dosage Calculation
Fine Arts/Humanities elective
Quantitative Reasoning or higher
Current Major-Specific Courses Available
Interested in seeing some of the current major-specific courses being offered as a part of this degree program? View the current course listings.
Graduation Requirements
Prospective Students
If you are thinking about attending SMCC and are curious what the current program course requirements are to earn your degree, download the current SMCC Course Catalog.
Current Students
If you are a current student, your program requirements may be different than those listed for the current catalog year. To view your specific program requirements or to search and register for courses, log in to MySMCC and visit the MyDegree webpage.
Graduation Outcomes
Student Learning Outcomes
Systematically apply the nursing process to provide care to clients in a variety of healthcare settings.
Demonstrate client-centered caring behaviors and actions that result in an environment of respect and trust.
Adhere to professional behaviors within the legal, ethical and practice standards.
Program Outcomes (as of May 2020)
Goal: The program's annual licensure examination NCLEX pass rate is 80% or greater for all first-time test takers. Outcome: SMCC pass rate was 95.31%. SMCC's 3-year rate of 92.38% exceeded the national benchmark of 87.86%.
Goal: At least 70% of entering students complete the Nursing program within three years. Outcome: SMCC's rate for 2017-19 was 76.2%.
Goal: At least 80% of graduates report employment in nursing within 6 months of graduation. Outcome: SMCC's rate was 100% for AY 2017-2018.
Equipment Requirements
Download the Nursing Uniform List.

Estimated Degree Completion Time

Please note, these estimates are based on a student taking an average of 15 credits per semester and do not include college preparatory or developmental courses.
Program Costs
View an estimate of costs to complete this program:

SMCC Graduates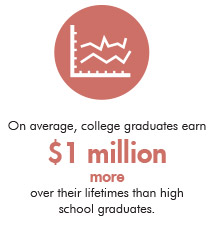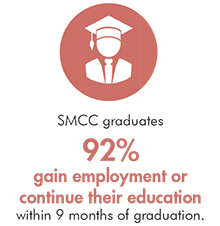 ---
Transfer Agreements for Nursing