Associate Degree in Emergency Medical Services/Paramedicine
On this page:

About This Program
Paramedicine offers an exciting and challenging career within the field of Emergency Medical Services (EMS). Paramedics are members of the healthcare team that provides advanced-level care using standing orders, clinical judgment and medical direction of a physician. In the out-of-hospital environment, the paramedic leads the healthcare team. Employment opportunities are available with municipal and private ambulances, fire departments, hospitals, clinics and industrial settings.
Admission into the Paramedicine program requires that a student be a licensed Emergency Medical Technician (EMT) and complete an English composition, quantitative reasoning (or higher) and anatomy & physiology I with lab course.
Students gain entry-level competency in many skills, including comprehensive patient assessment, airway management, medication administration, cardiac rhythm interpretation and the management of medical emergencies and traumatic injuries. Included in the curriculum (for additional fees), but not limited to, are certifications in ACLS (Advanced Cardiac Life Support), PALS (Pediatric Advanced Life Support) and PHTLS (Pre-Hospital Trauma Life Support).
The clinical component of the program consists of over 700 hours of clinical time in a variety of settings including hospitals, medical facilities and paramedic services.
Out-of-State Licensure Information
If you are completing this program and will be seeking licensure in another state, please download our Out-of-State Licensure document.
Accreditation
Commission on Accreditation of Allied Health Education Programs Accreditation Statement:
The Southern Maine Community College Paramedic Program is accredited by the Commission on Accreditation of Allied Health Education Programs (www.caahep.org) upon the recommendation of the Committee on Accreditation of Educational Programs for the Emergency Medical Services Professions (CoAEMSP).
Commission on Accreditation of Allied Health Education Programs
25400 US Highway 19 N., Suite 158
Clearwater, FL 33763
727-210-2350
www.caahep.org
To contact CoAEMSP:
8301 Lakeview Parkway Suite 111-312
Rowlett, TX 75088
214-703-8992
(f) 214-703-8445
www.coaemsp.org
Additional Admissions Requirements
Your Degree Courses
Emergency Medical Services/Paramedicine offers an Associate in Applied Science degree requiring a mix of general education and hands-on courses. The following courses are a sampling of what you might take as a student in this program and are subject to change.
Program Course Sampling
EMS Operations
Introductory Cardiology
Paramedic Procedures
Patient Assessment
Advanced Cardiology
Medical Emergencies
Trauma Management
Special Populations
Paramedic Boards Review
Paramedic Clinical Practicum I
Paramedic Clinical Practicum II
Paramedic Field Internship
Pharmacology
Anatomy & Physiology II
English Literature
Introduction to Psychology
Fine Arts/Humanities elective
Looking to take the Emergency Medical Technician course to prepare for working in Emergency Medical Services? Search for EMST 100: Emergency Medical Technician by visiting our Course Search webpage.
Current Major-Specific Courses Available
Interested in seeing some of the current major-specific courses being offered as a part of this degree program?
Graduation Requirements
Prospective Students
If you are thinking about attending SMCC and are curious what the current program course requirements are to earn your degree, download the current SMCC Course Catalog.
Current Students
If you are a current student, your program requirements may be different than those listed for the current catalog year. To view your specific program requirements or to search and register for courses, log in to MySMCC and visit the MyDegree webpage.
Graduation Outcomes
Perform a comprehensive assessment on a patient.
Demonstrate the ability to comprehend, apply and evaluate clinical information to implement the treatment plan for patients in pre-hospital settings.
Demonstrate technical proficiency in all pre-hospital skills including cardiac rhythm recognition, airway management and medication administration.
Recognize that paramedics are an essential component of the continuum of care and service among health resources.
Communicate findings to a physician or other healthcare professional.
Outcomes Data
Class
NRP Cognitive Pass Rate

Retention Rate
Positive Placement Rate
Class of 2020
1st: 94.4%
Final: 100%
85.7%
100%
Estimated Degree Completion Time

Please note, these estimates are based on a student taking an average of 15 credits per semester and do not include college preparatory or developmental courses.
Program Costs
View an estimate of costs to complete this program:

SMCC Graduates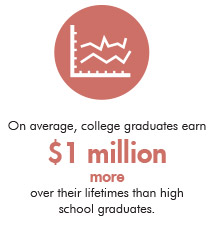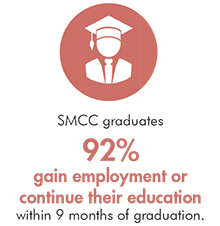 ---
Transfer Agreements for Emergency Medical Services/Paramedicine
Technical Management, BS
Southern New Hampshire University
SMCC Degree Program: Emergency Medical Services/Paramedicine
View this Agreement »