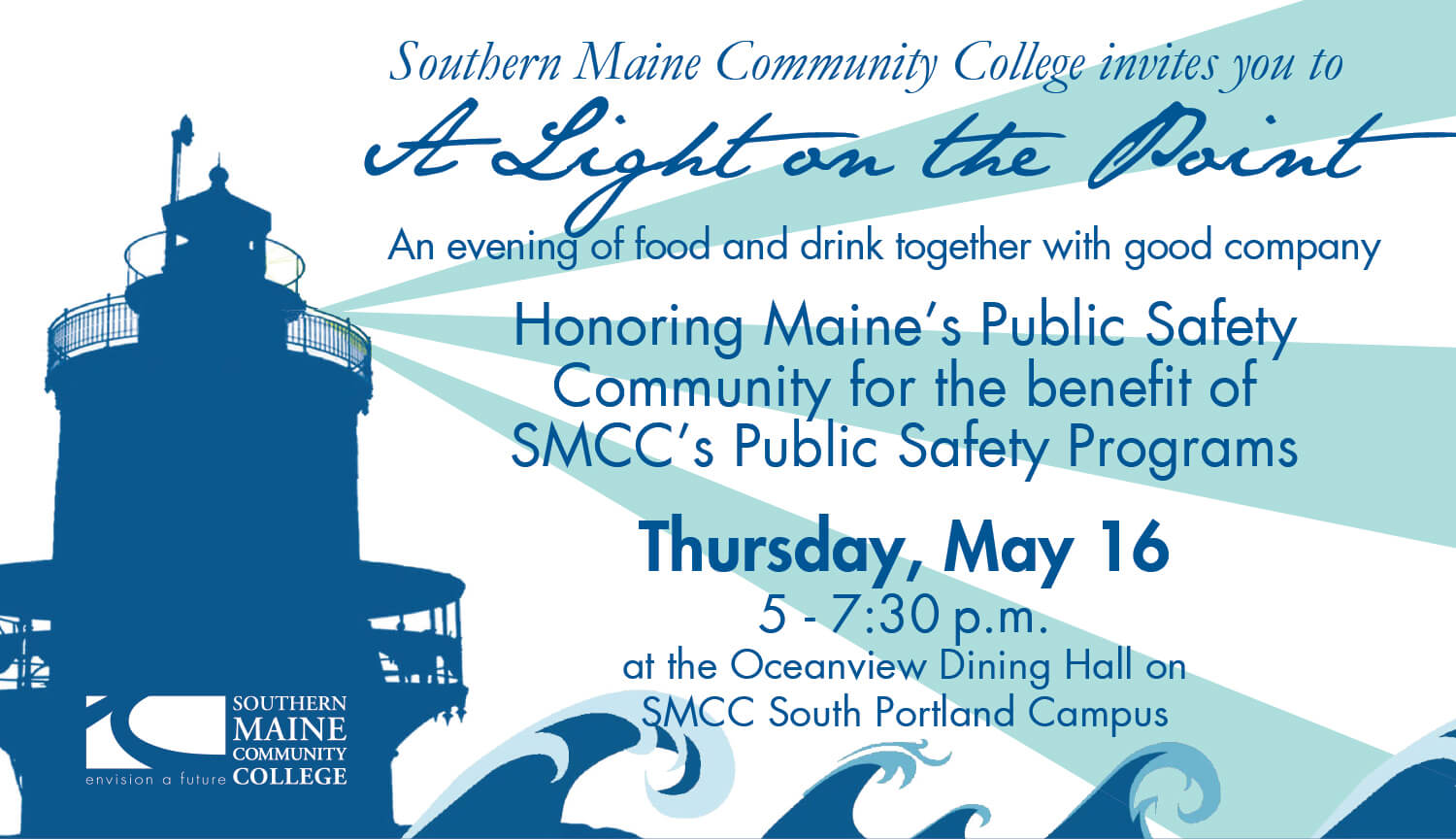 Thursday, May 16, 5-7:30 p.m.
SMCC Oceanview Dining Hall
95 Campus Center Drive
South Portland, Maine
Southern Maine Community College is hosting a celebration of its Public Safety programs and the thousands of firefighters, law enforcement officers, emergency medical technicians, paramedics and others who have touched or been touched by these programs through the decades.
This year's SMCC Foundation fundraiser, called A Light on the Point, will focus on the College's Criminal Justice, EMS/Paramedicine and Fire Science academic programs, as well as the Maine Fire Service Institute, a department of SMCC that provides training and educational services to Maine's fire agencies and firefighters. The event benefits student scholarships provided through the SMCC Foundation and academic programs.
The public is invited to the event, held from 5-7:30 p.m. on Thursday, May 16, at SMCC's Oceanview Dining Hall.
"SMCC has been providing training and education for Maine's first responders for decades to meet the education and training needs of Maine residents and the workforce needs of Maine employers," said SMCC President Joe Cassidy. "Thousands of former SMCC students work as firefighters, police officers, emergency medical technicians, paramedics and other public safety professionals, helping keep our communities safe. SMCC is proud to honor Maine's first responders and our role in preparing them for careers that impact and save lives."
For the current academic year, SMCC awarded $226,000 in scholarships to 253 students. Among the recipients was Zack Gordon, a Fire Science student who works three or four jobs to help make ends meet while working toward his degree.
"Between tuition, books, fuel, food and other expenses, students worry about costs," he said. "Student debt is a very real issue, so scholarships really mean a lot."
The event will also recognize several anniversaries:
SMCC's Fire Science program is celebrating its 50th year.
The Fire Science live-in program, where students live and work in area fire stations while attending school, is celebrating its 30th year.
And the Maine Fire Service Institute is celebrating its 70th year.
Tickets to A Light on the Point can be purchased at https://alightonthepoint2019.eventbrite.com. For information about sponsorship opportunities, please contact the SMCC Foundation at foundation@smccME.edu or 741-5559.