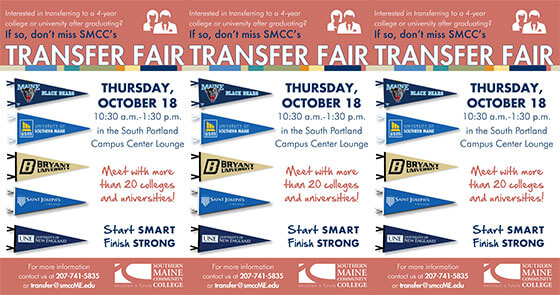 Transfer Fair to feature 2 dozen schools
If you're interested in transferring after graduation from SMCC, the Transfer Fair is the place to go to learn about other colleges and universities.
Representatives from two dozen four-year colleges and universities will be on hand in the Campus Center from 10:30 a.m.-1 p.m. Thursday, Oct. 16, to answer your questions and provide information on their schools.
The fair serves as a resource where students can do some one-stop transfer shopping by learning about the schools' academic programs, financial aid, student life and other things that go into deciding where to transfer.
This year's participants include public and private schools, both small and large, from across Maine and New England. There will even be information tables for universities in England and Italy.
American International University, London, England
Bay Path University, MA
Emerson College, MA
Granite State College, NH
Husson University, ME
Johnson & Wales University, RI
John Cabot University, Rome, Italy
Maine College of Art, ME
Maine Maritime Academy, ME
Merrimack College, MA
Plymouth State University, NH
Purdue Global
Saint Joseph's College of Maine, ME
Southern New Hampshire University, NH
Thomas College, ME
UMass Dartmouth, MA
UMass Lowell, MA
Unity College, ME
University of Maine, ME
University of Maine at Augusta, ME
University of Maine at Farmington, ME
University of Maine at Fort Kent, ME
University of Maine at Machias, ME
University of New England, ME
University of Southern Maine, ME
Vermont Technical College, VT
Practice your networking skills, meet potential employers
There's more to landing a job after graduation than succeeding in the classroom. It also takes an ability to network and communicate with potential employers.
SMCC's Career Services department has organized a series of networking events where students can meet employers in their fields in informal settings and practice their networking and communications skills without the pressure of trying to land a job. The first event was Sept. 21, and three more are slated in October and November.
Experts agree that networking is a vital component to launch a successful career, said Margaret Brownlee, Director of Career Services.
These networking events benefit students and employers, she said. Employers can develop one-on-one relationships with SMCC students, faculty and staff in a small and intimate setting in order to build a pipeline for their business or organization. With unemployment levels at historic lows, employers are always on the lookout for employees.
"And students can practice their oral communication skills and meet with employers from the Greater Portland area," Brownlee said. "Some employers are looking to hire students now, others are looking for interns, and some just want to build connections."
Upcoming networking events are:
Wednesday, Oct. 10, 3-5 p.m., Jewett Auditorium. For students in Applied Technology programs (Architectural & Engineering Design; Automotive Technology; Composite Science & Manufacturing; Construction Technology; Engineering & Electrical Technology; Heating, AC, Refrigeration & Plumbing; Horticulture; and Precision Machining and Manufacturing). Register here.
Thursday, Oct. 25, 5-7 p.m., McKernan Center. For students in Arts & Sciences programs. Register here.
Thursday, Nov. 1, 5-7 p.m., McKernan Center. For students in Business and Information Technology programs (Business Administration; communications & New Media Studies; Computer & Information Services; Culinary Arts; and Hospitality Management). Register here.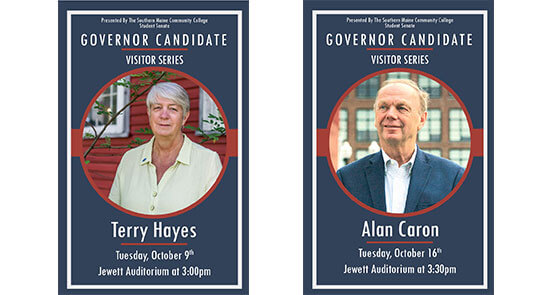 Election 2018: Students register, candidates to visit
Dozens of SMCC students have registered to vote at a voter registration table in the Campus Center in recent weeks, and two gubernatorial candidates are scheduled to visit SMCC to talk to students.
The Student Senate and Professors Herb Adams and Alicia Harding helped about 50 SMCC students register at a registration table that was set up a couple of times in September and early October.
The Student Senate has also arranged to have two candidates who are running for governor — independents Alan Caron and Terry Hayes — visit SMCC to talk to students. Invitations have also been issued to Democrat Janet Mills and Republican Shawn Moody.
Mark your calendars for:
Tuesday, Oct. 9: Terry Hayes. Hayes will be in Jewett Auditorium at 3 p.m. for a meet-and-greet with students and will speak at 4 p.m.
Tuesday, Oct. 16: Alan Caron. Caron will be in Jewett Auditorium at 3:30 p.m. for a meet-and-greet and will speak at 4 p.m.
SMCC students sought for Smith, Mount Holyoke programs
Smith and Mount Holyoke colleges are holding a luncheon on October 16 for SMCC students interested in transferring to those schools' programs for women of nontraditional age.
SMCC has had partnerships with Smith's Ada Comstock program and Mount Holyoke's Frances Perkins program for more than a decade. Smith and Mount Holyoke are small liberal arts schools for women located in western Massachusetts.
Through the years, more than two dozen SMCC graduates have transferred to those programs. For the current academic years, two SMCC alumnae are taking part in the Ada Comstock program (for students 24 and older), and two others are participating in the Frances Perkins program (for students 25 and up).
To learn more about the programs, interested female students are encouraged to attend a luncheon at noon on Tuesday, October 16, to meet with Smith and Mount Holyoke officials.
For more information, please contact Margie Fahey, Associate Dean of Curriculum Design and Articulation, at mfahey@smccME.edu or 741-5833.
Like science? Science department offers seminars, workshops & more
Like science? SMCC's Science Department is hosting a series of seminars, discussions and presentations aimed at students with an interest in science.
Science Dept. Seminar Series
"Resistance Is (Not) Futile — Confronting the Post-Antibiotic Era," presentation by George Allen, Professor of Pharmacy Practice, University of New England. Monday, Oct. 15, 5:30-6:30 p.m., Jewett Auditorium.
"Remodeling Our Nervous System: Why Neural Plasticity in Adulthood is Important," presentation by Kristy Townsend, Professor of Neurobiology, University of Maine. Monday, Nov. 5, 5:30-6:30 p.m., Jewett Auditorium.
"Experimental and Computational Analysis of Marine Viruses," presentation by SMCC science student Emily Haggett. Thursday, Dec. 6, 5:30-6:30 p.m., Jewett Auditorium.
Research Opportunities: Learn about paid summer research opportunities and free weeklong lab-based workshops offered during winter and summer breaks offered to any SMCC student with an interest in science. Thursday, Oct. 18, 4:30-6 p.m., Jewett Auditorium.
Science Department Career Night: Hear a panel of SMCC Science Department alumni and students talk about their jobs and careers. Thursday, Nov. 1, 4:30-6 p.m., Jewett Auditorium.
Graduate School: Thinking about grad school? Come to a presentation about preparing for graduate school along with a panel Q-and-A session followed by a CV peer-editing workshop and networking gathering. Thursday, Nov. 8, Jewett Auditorium.
For more information, contact Professor Elizabeth Ehrenfeld at eehrenfeld@smccME.edu.