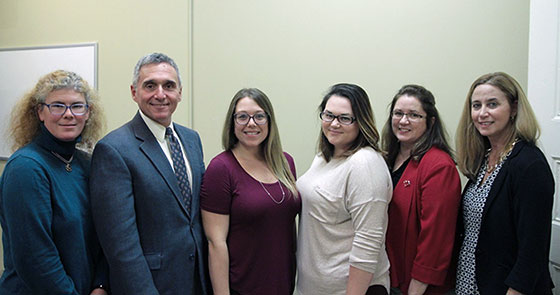 Job-shadowing for Health Sciences students
What better way to learn about healthcare administration than to hang out with a healthcare company's CEO? That's what happened during a job-shadow day at Martin's Point Health Care for students enrolled in SMCC's Health Sciences program.
For the Nov. 3 event, students Andrea Manousos and Brandy Casey spent time with the Corporate Administration Team, while Abigail Egan was with the Martin's Point Management System Team.
Casey and Manousos spent much of their time with Martin's Point President and CEO Dr. David Howes and Chief Medical Officer Dr. Jonathan Harvey, as well with the Executive Administration Team.
Casey, who hopes to one day be the CEO of a healthcare organization, said she was impressed with the strong and positive culture at Martin's Point.
"Time flew by and I wish I could have stayed and talked longer," she said. "It was a great opportunity though, and I would encourage any student looking to be in the healthcare field to take advantage of opportunities like this one!"
Manousos — who plans to get into healthcare management upon graduation — said she was impressed with how Martin's Point emphasizes ethics and responsibility toward employees to make it a desirable place to work.
"My future goal is to work at a place like Martin's Point that has a mission and vision that allows for compassion and quality care to come first — people first, business second," she said. "My big takeaway was that nonprofit and for-profit can find a place to coexist. Martin's Point is one such place."
SMCC's Health Sciences academic program is in its second year, providing students with introductory courses necessary for careers in healthcare administration or healthcare education or as a starting point for students interested in attaining a future professional degree in healthcare.
While students in clinical health science programs (nursing, respiratory therapy, etc.) work in clinical settings as part of their education, the partnership with Martin's Point allows Health Sciences students to get a first-hand look at nonclinical jobs in healthcare settings.
For the job-shadow event, students from both SMCC and USM visited the Martin's Point Health Care administrative campus in Portland. After a tour of the campus, the students were paired up with employees in nonclinical positions to get an up-close look at their departments.
Martin's Point Health Care is unusual in that it provides both clinical healthcare services and health insurance plans. The nonclinical departments range from administration, marketing and communications to compliance and legal affairs, operations and community relations.
The visit ended with a lunch reception, where students were able to speak with various members of the different department and members of Martin's Point senior leadership team.
Photo caption: Health Sciences student Andrea Manousos, President Ron Cantor, students Brandy Casey and Abigail Egan, Health Sciences Chair Norma Willis and Business & Community Partnerships Dean Julie Chase are shown at Martin's Point Health Care on Nov. 3.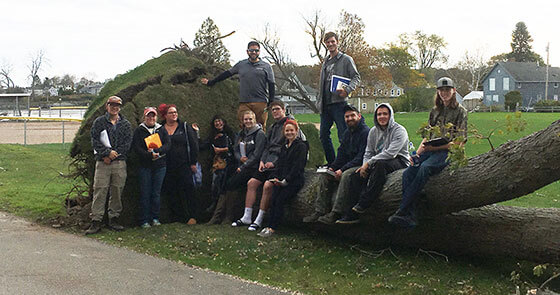 Fallen trees turn into learning exercise
High winds uprooted two large silver maple trees on the South Portland Campus during an intense storm on Oct. 30. Horticulture Professor Cheryl Rich turned the toppled trees into a hands-on learning exercise for students.
The day after the trees fell, Rich and her Woody Plant Materials students examined the trees and their root systems.
Trees, Rich said, are anchored more by the width of their root systems than their depth. An established tree's root system can be relatively shallow, but three times the width of its canopy.
The class also discussed factors contributing to the failure of the trees: two years of drought stress followed by sudden heavy rains and high winds from a direction that the trees aren't used to (trees develop denser wood and root systems in certain parts of their trunks and roots in response to prevailing winds).
Students also learned about efforts to preserve the trees over the years. Arborists had cabled together the large leaders (the vertical stems at the top of the trunk) on one of the trees to keep them from splitting. Since silver maples are fairly weak trees, it's not uncommon to see older specimens that have been cabled, Rich said.
Horticulture Instructor Tom Hoerth said he took an assessment of the trees just last spring.
The trees, he said, were roughly 34 to 36 inches in diameter, 75-80 feet tall and about 90 years old.
The winds that blew down the trees must have been quite powerful, he said, given that the trees had previously survived the ice storm of 1998, the Patriot's Day Nor'easter of 2007 and numerous other storms through the decades.

Check out these classes: Maine art, sports in Latin America, and more
Interested in studying the art of Maine? Want to travel to the Dominican Republic to study Latin American sport and gender? Ready to speak Arabic? SMCC is offering new, different and cool courses this spring that allow students to do those things and more.
Here is a list of some classes worth checking out. For expanded descriptions, go to course listings on the MySMCC student portal.
The Art of Maine (ARTH 110): This class focuses on the history and current state of art in Maine, while challenging students to express themselves by making art in a variety of media that addresses what "Maine" means to them. Thur., 1:30-4:15 p.m. (Midcoast).
Latin American Sport & Gender (SPTM 110): This course examines cultural assumptions about and the power relations in sport that have an impact on adolescent girls in Latin American countries. With a one-week seminar over spring break in the Dominican Republic. Online.
Philosophy in Action: A Course in Principled Leadership (PHIL 155): Students will choose a service-leadership mentoring project on campus or in a local community to exercise the leadership philosophies they learn in the classroom to gain service-learning and SMCC Honors Program credit. Tues & Thur, 1:30-2:45 p.m. (S. Portland).
Digital Foundations (CNMS 111): Looking to fulfill an Arts & Humanities requirement? This course introduces students to Photoshop, InDesign and other Adobe software. Mon 1:30-4:25 p.m. (S. Portland); Tues, 9:30 a.m.-12:15 p.m. (S. Portland and Midcoast); Tues, 1:30-4:15 p.m. (S. Portland); Tues, 6-8:45 p.m. (S. Portland); and online.
Italian Renaissance Art & Architecture (ARTH 191): This course focuses on the art and architecture of the Italian Renaissance, with a one-week seminar in Italy over spring break. Online.
American Environmental History (HIST 139): This new course explores the interaction between humans and their environments throughout U.S. history and how Americans have shaped and been shaped by the environment. Tues and Thur, 1:30-2:45 p.m. (S.Portland)
Introduction to Public Policy (POLS 120): This course introduces students to how public policy is formed, implemented and evaluated in the American political system. Tues and Thurs, 1:30-2:45 p.m. (S. Portland)
Intro to Peace, War, and Security (POLS 212): This course examines the military, economic, political and cultural factors that lead to peace. It also looks at the changing nature of war as well as security on national and local levels. Tues and Thur, 11 a.m.-12:15 p.m. (S. Portland)
Theories of Personality (PSYC 240): Students will review major personality theorists and their theories, including psychodynamic, humanistic, behavioral, cognitive, biological, trait, and cultural perspectives. Tues and Thur, 11 a.m.-12:15 p.m. (S. Portland)
Fire Behavior/Combustion (FIRE 120): This new course examines the chemical and physical nature of fire, including the sources of heat energy, fuel characteristics and the environmental conditions necessary to sustain the combustion process. Thur, 1:30-4:15 p.m. (S. Portland)
Arabic I (ARAB 101): This course focuses on mastering the Arabic alphabet, pronouncing sounds correctly and using common Arabic phrases and sentence structures. Mon and Wed, 6-7:50 p.m. (S. Portland)
Arabic II (ARAB 102): Students build on grammar and vocabulary learned in Arabic I. Tue and Thur, 6-7:50 p.m. (S. Portland)
Spanish I (SPAN 101): This beginner course focuses on listening comprehension, speaking, reading and writing. Appropriate for students with fewer than two years of high school Spanish. Tues 11:15 a.m.-1:20 p.m. and Thur 12:30-1:20 p.m. (S. Portland)
Spanish II (SPAN 102): This course is a continuation of Spanish I and emphasizes listening comprehension, speaking, reading and writing. Tues 1:30-2:45 p.m. and Thur 12:30-2:45 p.m. (S. Portland)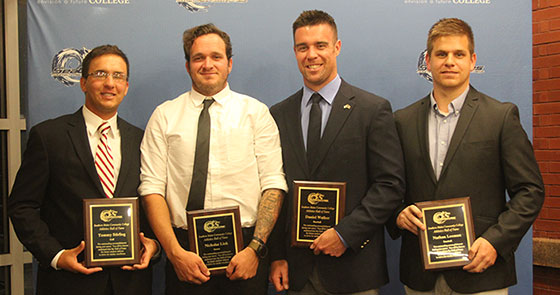 Four inducted into Athletic Hall of Fame
Former student-athletes from SMCC's golf, soccer and baseball teams are the newest members of the SMCC Athletic Hall of Fame.
Tommy Stirling, Nick Link, Nate Leeman and Dan Walker were inducted into the Hall of Fame during a ceremony in the Campus Center on Nov. 4. With their induction, 30 individuals and one sports team are now part of the Hall of Fame.
This year's honorees are:
Tommy Stirling had a 75.8 scoring average, the lowest in school history, while playing on the golf team in 2010 and 2011. He was an All-conference and All-American selection both seasons, and he won the national USCAA championship in 2011 when he shot a 140, a USCAA record that still stands.
Nick Link played on the SMCC soccer team from 2008-2011. During his tenure, he was team captain for three seasons, a two-time YSCC All-Conference selection and a USCAA All-American in 2011. A forward converted to a defenseman, he ended his SMCC career with eight goals, four assists and 20 points.
Nate Leeman played on the baseball team in 2009 and 2010, and was a YSCC All-Conference selection both seasons. He ranks ninth all-time in hits with 67, seventh in batting average with a .351 average, and fourth in RBIs with 61.
Dan Walker was a dominant pitcher while playing on the baseball team in 2009 and 2010. He ranks first all-time in ERA (3.50) among pitchers with 100 or more innings pitched, and averaged more than a strikeout per inning. In his time at SMCC, he won 13 games and threw 13 complete games, a program best.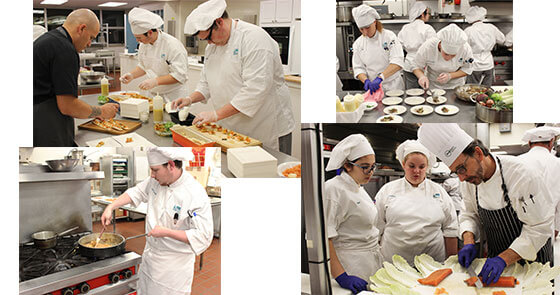 Fundraiser supports Culinary Arts, Hospitality Management programs
An SMCC Foundation fundraiser featuring renowned chefs from Portland restaurants raised more than $50,000 in support of SMCC's Culinary Arts and Hospitality Management programs while giving students a valuable hands-on learning experience.
The Nov. 8 event, A Light on the Point, drew guests to the Culinary Arts Center, where they enjoyed food prepared and served by our Culinary and Hospitality students under the guidance of chefs from renowned Portland restaurants. Mixologists from other well-known establishments fixed drinks for guests.
The funds benefit the Culinary Arts and Hospitality programs, student scholarships and the President's Emergency Fund, which provides financial support to deserving students who are experiencing unexpected financial difficulties.
To a large extent, Culinary and Hospitality students planned and executed the fundraiser. Participating chefs visited campus in the weeks leading up to the event to show students how to prepare the various dishes that were served.
The fundraiser featured some of Portland's top chefs and mixologists from David's Restaurants, Piccolo, Central Provisions, Lolita Vinoteca + Asador, Chaval, Tipo Restaurant, Evo Kitchen + Bar, Sur Lie, Union at the Press Hotel, Fore Street, and the Portland Hunt and Alpine Club.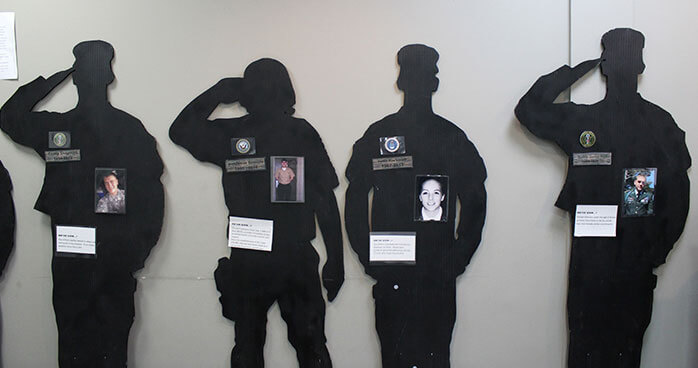 Silhouette Project raises awareness of suicide risk of veterans
A moving and powerful exhibit of life-sized cardboard cutouts was displayed in the Learning Commons to raise awareness about struggles faced by military veterans.
The Silhouette Project, on display the week of Nov. 6, featured 20 cardboard cutouts, each bearing the name, photo and military branch of a veteran lost to suicide. The Silhouette Project was developed by Linda Lajoie of Gardiner, who lost her son, an Afghanistan veteran, in 2014 to suicide.
The aim of the Silhouette Project is to raise awareness about the suicide risk faced by veterans and to spread the word about resources available to veterans and their families.
The SMCC Veterans Club chose to sponsor one of the silhouette cutouts prior to the Silhouette Project's first public exhibit last April at the USM Lewiston-Auburn Campus.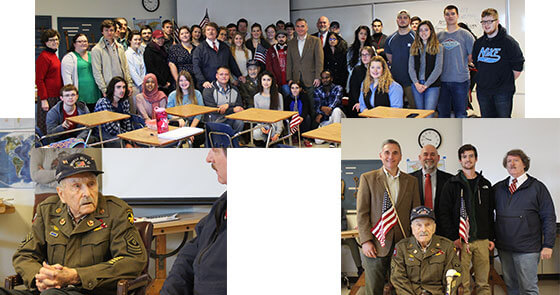 101-year-old D-Day veteran offers living history lesson
History students didn't crack open textbooks when getting a lesson last week on World War II's D-Day invasion. Instead, they heard about the historic event from 1st Sgt. Espen Christensen, who took part in the invasion and is now 101.
Christensen spoke Nov. 7 about his experiences in D-Day and other World War II battles to students from history and political science classes at the invitation of History Instructor Herb Adams.
On D-day — June 6, 1944 — Christensen flew a glider behind enemy lines in Normandy, France, while under attack from German soldiers. He later was involved in an airborne assault on German troops in Holland and in battles in North Africa, Sicily, the Battle of the Bulge and a sweep across central Germany.
D-Day was one of the largest amphibious military assaults in history and launched the start of the Allied liberation of Western Europe from Nazi Germany's control. It was also deadly, with thousands of troop casualties and thousands more wounded.
Christensen, who is from Portland, earned numerous military citations in his 4½ years of military service. He earned six combat stars, the bronze arrowhead, a presidential citation, the Purple Heart and the Good Conduct Medal. He was also bestowed the French Legion of Honor, the highest military decoration awarded in France.