Check out these spring classes
Interested in learning about civil rights through the decades? Want to travel to Italy or Iceland to study art and culture? Ready to learn more about physical fitness, politics or personality? SMCC is offering new, different and cool courses this spring that allow students to do those things and more.
With spring registration beginning this month, here is a list of some classes worth checking out, including three offered in collaboration with the University of Southern Maine. For expanded descriptions, go to course listings on the MySMCC student portal.
The African American Freedom Struggle, from Emancipation to Black Lives Matter (HIST 225): This course examines the ongoing struggle for African-American freedom, focusing on how both ordinary African-Americans, as well as renowned leaders, created and sustained the civil rights movement. Regional histories of the black freedom struggle — from Montgomery, Alabama, to Portland, Maine — will also be emphasized. Tues & Thurs, 1:30-2:45 p.m.
Cyberlaw (INSC 275): This new course examines how changing laws address the expansion of cybercrime in the digital age. Advances in digital technology have led to cybercrime and also led to the creation of laws specific to e-commerce, identity theft, sexual harassment, intellectual property rights, plagiarism, and confidential information of individuals and businesses. Students will examine case studies from a wide range of cybercrimes. Online.
Introduction to Public Policy (POLS 120): This class introduces students to key concepts in the American political system, including the government's financial condition, the federal budget and policies regarding economic, social welfare, medical care, environmental and national security issues. Tues & Thurs, 3-4:15 p.m.
Comparative Politics (POLS 205): This class focuses on political institutions at the national and international levels of government. Students will gain an understanding of American government through comparison with other political systems, and will examine democratic, authoritarian and totalitarian forms of government and the ideological foundations on which they are based. Tues & Thurs, 11 a.m.-12:15 p.m.
Theories of Personality (PSYCH 240): This course examines major personality theorists and their theories, including psychodynamic, humanistic, behavioral, cognitive, biological, trait and cultural perspectives. Students will explore how culture and social context shape understanding of personality and the development of theories. Tues & Thurs, 11 a.m.-12:15 p.m.
Italian Renaissance Art & Architecture (ARTH 192): This course focuses on the art and architecture of the Italian Renaissance associated with northern Italy from the 14th to the 17th centuries. Through reading, writing, group discussion, lecture and a study abroad experience in Italy, students will examine the evolution and development of Western art by experiencing important works in their original settings and cultural context in the cities of Ferrara, Venice and Florence. Online class with travel to Italy March 9-16 (SMCC Spring Break).
Mathematical Literacy Accelerated Learning Program (MATH 031): The Mathematics Accelerated Learning Program provides an opportunity to practice and refine basic math skills, including place value, whole number operations, fractions and decimals, percent, and number comparisons and equivalents. Other skills that will be developed and enhanced are rational numbers, ratio and proportions, algebraic expressions and linear equations. Students will work at a pace that parallels their study in MATH 030 Mathematical Literacy. The credits earned in this course will not count toward a degree with SMCC. Wed, 11 a.m.-12:15 p.m., or Fri, 11 a.m.-12:15 p.m.
These three classes are offered in collaboration with USM:
Arts, Culture and Education: Iceland (AED 299): This course focuses on the arts, culture and education systems of Iceland and how the cultural underpinnings of Icelandic society serve as the foundation of Icelandic art and education systems. Online course with travel to Iceland March 16-23 (USM spring break). To register, SMCC students should follow the USM application instructions.
Introduction to Exercise, Health, and Sport Sciences (SPM 100): This course (a USM course offered on the SMCC South Portland Campus at SMCC tuition rates) orients students to the expectations of a baccalaureate education in athletic training, exercise science or health sciences. Allied health historical perspectives, education, careers, certification and professional associations are explored. The class will be accepted as electives for Health Sciences, Nutrition & Dietetics, and Liberal Studies majors. To register, students should go through the Registration Office. Tues, 1:30-2:45 pm
Lifetime Physical Fitness and Wellness (SPM 219): This class (a USM course offered on SMCC's South Portland Campus at SMCC tuition rates) teaches students how to take control of their personal health and lifestyle habits. Major areas include nutrition/weight management, fitness training techniques, flexibility, coronary risk factor management, muscular strength/endurance, stress management and other wellness-related topics. The class will be accepted as electives for Health Sciences, Nutrition & Dietetics, and Liberal Studies majors. To register, students should go through the Registration Office. Thurs, 3-4:45 p.m.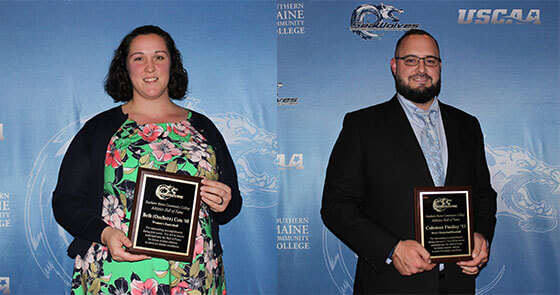 Sports Hall of Fame inducts 2 new members
Two former SMCC student-athletes who excelled in basketball and baseball are the newest members of the SMCC Athletics Hall of Fame.
Elizabeth (Ouellette) Cote and Coleman Findlay were inducted into the Hall of Fame at a Nov. 3 ceremony at the North 43 Bistro next to the SMCC campus.
This was the 13th induction class honoring former student-athletes, administrators and supporters for their contributions to SMCC's Athletics program. Cote and Findlay join 30 other student-athletes and one team who were already in the Hall of Fame.
Cote played on the women's basketball team from 2004-2008 and ranks first all-time in points, rebounds and blocks. She was a team captain and a two-time Yankee Small College Conference (YSCC) champion, and led her teams to the USCAA national tournament in 2006 and 2008.
Findlay played on the men's basketball team from 2008-2012 and on the baseball team from 2008-2009. He is the only SMCC student-athlete to be named USCAA All-American in two sports.
In basketball, he is SMCC's all-time leader in points and is third in rebounds. In baseball, he ranks fourth all-time in ERA among pitchers with 50 or more innings.


Job-shadowing benefits students
For the third time in the past year, SMCC students visited Martin's Point Health Care for a job-shadow day to learn more the inner workings of a healthcare organization.
Nine students from SMCC and other students from the University of Southern Maine visited Martin's Point in Portland on Oct. 26 to get a first-hand, up-close look at different departments.
Participating SMCC students are enrolled in the programs that include Health Science, Business, Medical Assisting, Information Technology and Respiratory Therapy. They were assigned to spend time in various departments at Martin's Point facilities including care delivery, corporate administration, IT, radiology, health care operations and marketing.
Martin's Point hosted similar job-shadow events last November and again in April that were such a success that a third job-shadow day was arranged.
Information Technology student Emmanuel Habimana said he encourages other students to take advantage of any job-shadow opportunities.
"I had so much fun being there; meeting new people that are doing IT security was just a dream come true," he said. "It motivated me to work hard in order to achieve what they have achieved."
Grace Wiley, a Medical Assisting student, said the event was eye-opening for her.
"There are a lot of things that you will see that will test your limits and make you question if this is right for you," she said following the visit. "Then you see the way your actions affect people, and it makes the job 10 times better then you thought. Keep pushing and don't just give up because of little bumps here and there."
Photo: In left photo, Medical Assisting student Alivia Hallett (center), who shadowed with Martin's Point care delivery team, is shown with two USM students who also took part in the job shadow event. In right photo, Business Administration student Jonas Mutombo — who shadowed with human resources, organizational development and talent acquisition teams — is shown with two Martin's Point employees.