Student leadership award nominations open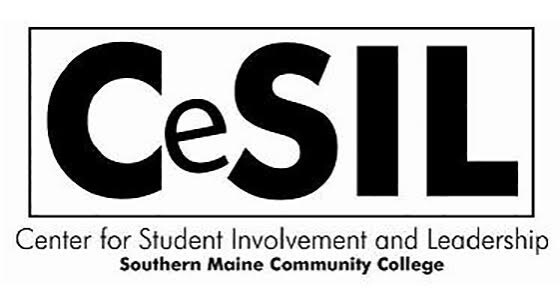 Nominations are being accepted for SMCC's annual student leadership awards to recognize the accomplishments of students, a student organization, and the faculty and staff who support them.
The entire SMCC community — students, faculty, and staff — is encouraged to submit nominations, which are due by 12 p.m. Friday, March 22. The winners will be announced at the Student Leadership Awards ceremony on April 29, which will be held at the McKernan Center.
Full details and requirements can be found on the awards nomination page.
The awards are:
Leader of the Pack awards are given to second-year (or more) students who have demonstrated pride in SMCC, served in leadership roles, made a significant impact on the campus community, demonstrated a commitment to academic success and served as a role model for peers.
Rising Star award is given to a first-year student who has demonstrated leadership, been involved on campus and in the community, showed commitment to academic success, served as a role model and fostered inclusion and collaboration.
Event of the Year award recognizes a college-sponsored event that fostered community-building among students, encouraged student involvement through planning and participation, and met its desired outcomes.
RA Event of the Year award recognizes an outstanding event that was organized by a Resident Assistant.
Outstanding Student Organization award recognizes a student organization that's had a significant impact on student life and the greater community, whose members are leaders on campus, and that embodies the values of teamwork, service and inclusion.
Exemplary Student Employee award recognizes a student employee who has demonstrated leadership and professionalism, taken the initiative in job responsibilities, and created new programs and/or served as a role model for others.
Distinguished Club Advisor award recognizes a faculty or staff member who has served as a student club advisor, provided a positive influence on student achievement, and gone beyond his or her advisor role to enhance the overall student experience.
SMCC Foundation scholarship applications open this week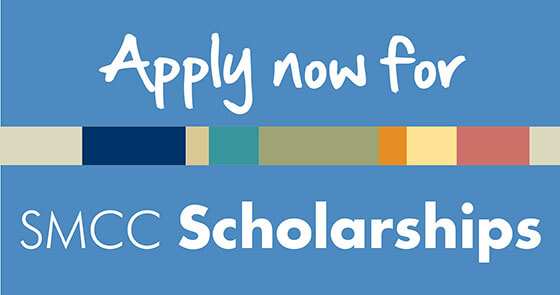 Students are encouraged to apply for SMCC Foundation scholarships for the 2019-20 academic year to help cushion the financial obligations of attending college.
The SMCC Foundation is now accepting applications through September 4. Last year, the Foundation awarded scholarships totaling about $226,000 to more than 250 students.
To apply for a scholarship, students should log onto the MySMCC online student portal, go to My Money and select Scholarship Opportunities.
When you apply, much of the online application will be filled out with information you have already provided to SMCC. You will automatically be considered for any scholarship for which you qualify, but you need to complete the application form and write a short personal statement to help us understand your circumstances.
You also have an opportunity to write a statement of financial need, which is particularly important for students who have financial need but do not qualify for federal financial aid. For additional information, please contact the SMCC Foundation Office at foundation@smccME.edu or 741-5559.
4 SeaWolves named All-Americans
The SeaWolves men's and women's basketball teams completed stellar seasons with 20-plus wins and four players being named All-Americans.
The men's and women's teams earned bids to the national USCAA Division II basketball tournament in Uniontown, Pa., earning them recognition as being among the top hoops teams in the country.
Both teams fell in the first round, but ended the season with impressive records. The men finished at 23-7, while the women were 23-6. In their final games in Uniontown, the men defeated Penn State Mont Alto by a score of 93-76, while the women beat the University of Maine at Machias, 61-50.
At the national championship banquet, Amanda Brett earned first-team All-American honors with Abigail Ramirez being named to the second team. From the men's team, Atencio Martin and Ryan Cloutier were named first-team All-Americans.
Adrianna White and Lauryn Fagan were named to the women's Division II basketball All-Academic Team. To make the team, student-athletes must have at least 24 credits and a 3.5 GPA.
"Speed dating" for Public Safety program students
In what could be called a version of "speed dating," students in SMCC's Public Safety programs came face-to-face with potential future employers by meeting in rapid-fire succession with top-ranking fire officials from across the region.
Students met with fire chiefs and officers on March 6 and 7 for the 10th annual Fire-EMS Chiefs' Roundtable at the McKernan Center. The event allowed students in SMCC's Fire Science, Emergency Medical Services/Paramedicine, and Criminal Justice academic programs to meet with representatives from fire and EMS departments in Maine and New Hampshire in 10-minute sessions, rotating from department to department while picking up tips on what fire departments are looking for in the hiring process.
Students enrolled in SMCC's inaugural Fire Science Institute, a workforce development program, were also invited.
This year's participants included 55 students and representatives from departments in Auburn, Bangor, Brunswick, Portland, Saco, Scarborough, South Portland and Hudson, N.H.
SMCC offers priority registration for veterans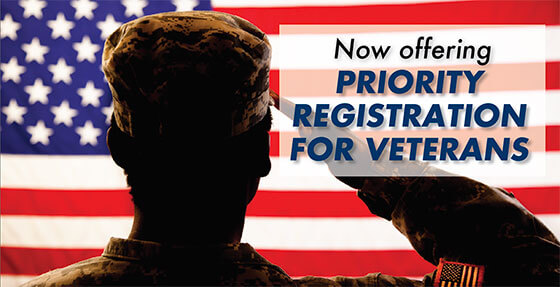 As part of our commitment to students who have served in the military, SMCC is offering priority registration to veterans.
Beginning this semester, and in future semesters, veterans who are current students will be able to register for the following semester as early as the first day of registration, regardless of how many credits they have earned.
The first day of registration is typically reserved for current students with 30 or more earned credits; students with fewer than 30 credits are usually allowed to register two days later.
Under the new system, veterans with any number of credits will be allowed to register for the following semester on the first day of registration.
"This is one more way we're supporting veterans in our SMCC community," said Amy Lainoff, SMCC's VA Certifying Official.