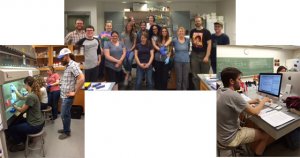 SMCC students conduct hands-on research at Bowdoin
A dozen SMCC students participated in an intensive hands-on research course at Bowdoin College, conducting novel genetic research in the lab of a well-known genetics research professor.
Students spent the last week in May at Bowdoin for the SMCC-Bowdoin Genetic Research short course, a laboratory-based class where students applied molecular biology techniques to answer real research questions about DNA. The class was taught by SMCC instructor Laura Dorsey and Bowdoin Professor Jack Bateman.
Participating students were Hunter Beck (Liberal Studies), Theo Bishop (Marine Science), Susan Gauthier (Nursing), Tiffany Greenleaf (Biotechnology), Jessica Hall (Biotechnology), Aisha Hill (Liberal Studies-Science), Jennifer Horta (Marine Biology), Jamie Loving (Biotechnology), Erin Norton (Liberal Studies), Asher Platts (Marine Science), Connor Scannel (Liberal Studies) and Serena Weston (Biotechnology).
"The experience of being in a lab doing actual research was a fantastic experience, and spending eight hours a day focusing on one project helped me to synthesize what we were learning in the lecture," said Platts.
Bishop is continuing to work in Bateman's lab this summer as part of a paid fellowship.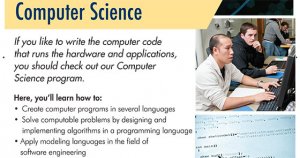 Program profile: Computer Science
Software developers are in high demand — employment nationally is projected to grow 24 percent through 2026, much faster than the average for all occupations.
SMCC's Computer Science program is helping meet that demand by training students to be the creative minds behind computer programs.
SMCC launched its Computer Science program in 2011. Today, about 100 students are enrolled in it.
"Software developers are incredibly in demand around here and nationwide," said Valerie Green, the program chair. "Quality software developers are hard to come by, and our students can get excellent jobs after graduation."
There are two types of software developers. Systems software developers create the software that makes computers and other devices run. Application software developers design software programs like word processors, databases and games that can be marketed to consumers or custom-designed for specific customers.
Application software may run on users' devices in the form of installed applications, or apps, but it is increasingly moving to "the cloud," where data and programs are stored and accessed through the Internet instead of a computer's hard drive.
According to the federal Bureau of Labor Statistics, the 2017 median annual pay in the U.S. for software developers was $103,560, or nearly $50 an hour. In Maine, the median yearly pay was $87,940 for application software developers and $91,550 for systems software developers.
In the Portland area, companies in need of software developers have shown a willingness to hire SMCC students part-time while allowing them to continue their studies toward a degree, Green said.