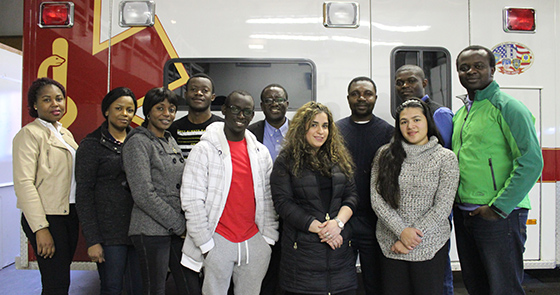 ESOL to EMT
A new program is training new Mainers to become EMTs to meet industry needs.
The ESOL-to-EMT program kicked off this semester to give immigrants an opportunity to learn EMT and interpreting skills, take an ESOL (English for Speakers of Other Languages) course and become state-certified as emergency medical technicians. Upon completion, job openings will await many of them.
The program was launched after North East Mobile Health Services, an ambulance service based in Scarborough, expressed a need for trained EMTs who speak both English and the languages of the immigrant and refugee communities in the Greater Portland area, said David Zahn, SMCC's ESOL and Global Languages Chair.
The majority of the program funding comes from Maine Quality Centers, which provides funding for training programs at Maine's community colleges to support the needs of local businesses for skilled workers.
Some of the students in the program have medical backgrounds in their native countries but aren't working in medical fields here in Maine because of language barriers and licensing requirements, Zahn said.
The new class aims to give students skills that meet the needs of the marketplace. North East Mobile Health Services has committed to interviewing all students who successfully complete the program and says it expects to hire 15 to 20 EMTs in the coming year.
Sixteen students are enrolled in the first class, hailing from places such as Burundi, Somalia, Democratic Republic of the Congo, Iran and Honduras. Somali, Kirundi, Lingali, Farsi, French and Spanish are among the students' native languages.
Following completion of the course, the students will also be given a test preparation course before they take EMT certification tests from the state.
Some of the graduates are likely to be placed in jobs as soon as this summer, Zahn said. A second ESOL-to-EMT class is planned for the summer semester.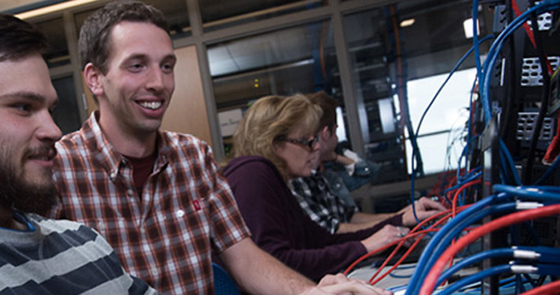 IT students earning internships
Five SMCC students earned paid internships last summer at an IT company in Portland. The program was such a success that the company is hiring more students this summer.
Through the Maine is IT! Initiative, SMCC's Information Technology and Cyber Security programs set up an internship program last year with Systems Engineering, an IT services company based in Portland's Old Port.
Last summer's participating students were exposed to real-world IT work. Systems Engineering, meanwhile, got five skilled workers for the summer and ended up hiring two of the students full-time.
Steve Thompson, who earned an Information Technology degree last spring and is now earning a second degree in Cyber Security, was hired part-time last fall after going through the internship. Just last month, Systems Engineering hired him full-time.
"The internship was invaluable," Thompson said. "In IT, learning in the classroom is a great way to get the foundation of knowledge you need in this field. But gaining field experience is really important as well. Having real-world experience can help build out the toolbox to help in your career."
Systems Engineering is planning to again hire summer interns from SMCC's Information Technology and Cyber Security programs. Interested students visited Systems Engineering's offices in January to get an up-close look at the company and learn more about the internships.
The students will go through the application and interview process in March and April, after which Systems Engineering will select students for next summer's internships.
The program is an example of SMCC meeting workplace needs while creating a customized talent pipeline between the college and an employer.
As a result of the success of the Systems Engineering internship, two other IT companies — WinXNet in Portland and DSCI in South Portland — have started their own internship programs for SMCC students.
Culinary Arts building upgraded
SMCC's Culinary Arts Center is getting some much-need mechanical upgrades.
Workers are installing a rooftop air conditioning unit on the building to provide air conditioning to the building's dining hall, which was previously served by two portable air conditioning units.
Following the Spring Semester, six rooftop air ventilation units will be installed that will connect with kitchen exhaust hoods located in the four kitchen labs in the building. The updated air-exchange system will provide fresh air from the outside to replace inside air that is vented to the outside through the exhaust hoods — resulting in a healthy air exchange.
Additionally, the new units will utilize what's known as "best-available control technology," meaning they will be able to be monitored and adjusted remotely through the facility department's computer system.