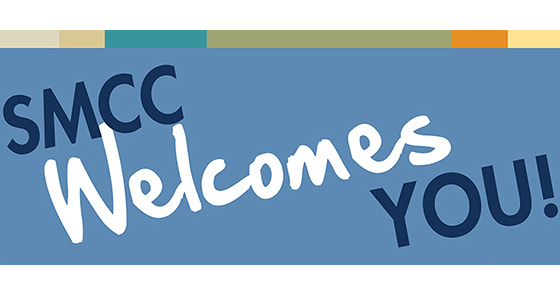 Welcome to the Spring Semester
Southern Maine Community College is bustling with the arrival of thousands of students for the Spring Semester.
Spring classes began Tuesday, Jan. 17, and come to an end on May 13. Commencement is scheduled for May 21 at Cross Insurance Arena in Portland.
So, what's new for the Spring Semester?
There are two new full-time faculty members on board: Doug Arnold in Automotive Technology, and Drew Silsby in Engineering.
Among the new courses is an online Italian Renaissance Art & Architecture class that focuses on the art and architecture of the Italian Renaissance and includes a one-week seminar in Italy over spring break. A new developmental math course, MATH 051, allows students to get extra tutoring help and work at a pace that parallels work in MATH 050.
On the Midcoast Campus, the Human Services program is offering additional classes that will allow students to earn their associate degree in Human Services without having to travel to the South Portland Campus. All the classes required for graduation will now be offered on the Midcoast Campus in Brunswick.
And thanks to a new college policy, college algebra is no longer a prerequisite for students to take statistics classes.
Students connect through new app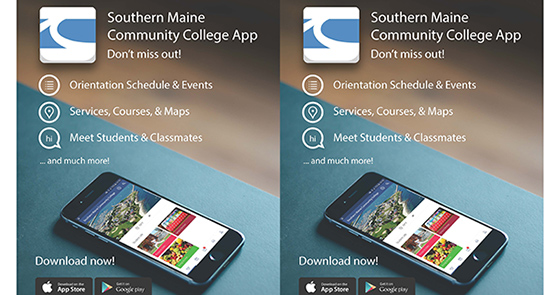 Hundreds of SMCC students are connecting and becoming engaged with each other and the college through a new SMCC mobile app.
The SMCC app — which can be downloaded for free on Android and iOS devices — was launched this fall as a tool for students to stay informed and feel a sense of belonging at SMCC. So far, there are about 300 registered users.
The app includes things like events, maps, a directory, information on student organizations and sports schedules, but it aims to be more than simply an information tool.
It was designed with student engagement in mind by allowing students to interact with information and each other, pull classes and events into their calendars, set reminders for class assignments and even connect students with peers to form study groups.
Many students have used the app to buy and sell textbooks, seek rides to SMCC, post photos or ask random questions.
"The biggest thing this brings is the opportunity for students to interact with each other electronically, who otherwise might not have met," said Tiffanie Bentley, SMCC's Dean of Student Life.
The app was developed by OohLaLa, an app development company that produces custom apps for post-secondary institutions.
Legislators visit Midcoast Campus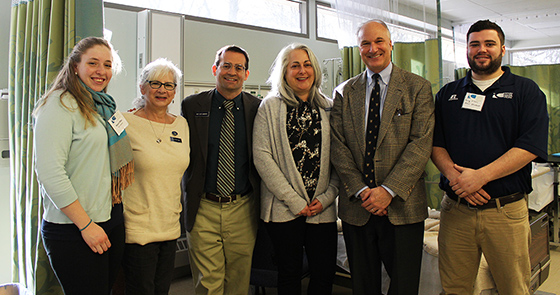 A group of Maine legislators visited SMCC's Midcoast Campus to meet with students, faculty and staff.
At the legislative gathering on Jan. 6, state Sen. Eloise Vitelli and Reps. Seth Berry, Jay McCreight and Denise Tepler heard about student success, workforce development and new initiatives at SMCC.
The lawmakers heard from Maine Community College System President Derek Langhauser, Midcoast Dean Jim Whitten and Dean of Enrollment and Student Services Kaylene Mitchell. Students Danny O'Neil and Maeve Shea told legislators about their positive experiences at SMCC.
SMCC held a separate get-together on the South Portland Campus in December attended by legislators, students, faculty, staff and clinical partners of SMCC's various health science programs.
Photo caption: From left, student Maeve Shea, Rep. Jay McCreight, Rep. Seth Berry, Rep. Denise Tepler, MCCS President Derek Langhauser and student Danny O'Neil. (Not shown: Sen. Eloise Vitelli)
Portrait of a Donor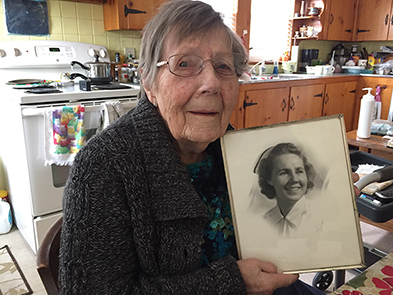 Jane Sudds graduated from nursing school in 1942 and was a nurse for decades afterward. Today, she supports a scholarship fund that benefits nursing students at SMCC.
Jane (shown holding a photo of herself from the 1940s) graduated from the former Maine Eye and Ear Infirmary nursing school in Portland. Around 2004, the MEEI Alumni Association established an endowed scholarship with the SMCC Foundation for SMCC nursing students who demonstrate academic merit and financial need.
"It's a good feeling," says Jane, who's now 96. "It makes you feel like you're helping the next generation in the nursing field."
The SMCC Foundation raises money from businesses, civic groups, community leaders and individuals for academic programs, classrooms and equipment, and scholarships for deserving students. Each year, it awards about 200 scholarships totaling about $200,000.
Students to can apply for scholarships beginning March 1.
People can support the Foundation by calling the Foundation office at 741-5559 or through its webpage, www.smccME.edu/foundation.