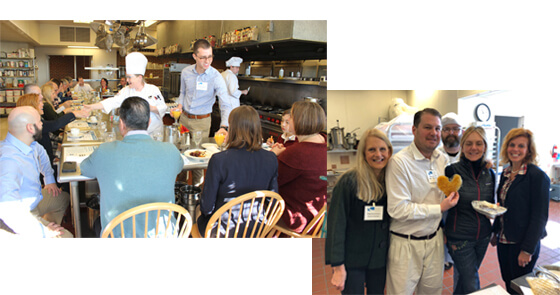 Legislators pay a visit to SMCC
A group of state legislators left impressed after visiting SMCC during the College's annual legislative breakfast.
A group of 10 lawmakers from Portland and surrounding towns and cities came to a Culinary Arts Center kitchen on Feb. 3, where students prepared and served made-to-order omelettes utilizing skills they learned at SMCC. Joined by SMCC industry partners and alumni, they heard from SMCC President Ron Cantor, students and staff while learning about initiatives taking place at SMCC.
The legislators who attended joined the event were Senators Cathy Breen, Mark Dion and Amy Volk; and Representative Ben Collings, Dale Denno, Richard Farnsworth, Kim Monaghan, Lois Galgay Reckitt, Maureen "Mo" Terry and Karen Vachon.
Other guests included Bo Byrne, executive chef at Tiqa restaurant and an SMCC alumnus; Dan Gore, Corporate Chef for Amato's and treasurer for the local chapter of the American Culinary Federation; Bronwyn Gray, an SMCC alumna and current USM student; and Gerald Kiladjian, General Manager of the Portland Harbor Hotel.
During the breakfast, legislators asked questions and gave their impressions on SMCC's initiatives to meet student and industry needs to build strong workforces and a strong Maine economy.
"Every time I come here I'm more and more impressed," said Senator Breen.
Representative Vachon added: "I tell everyone that SMCC is the best-kept secret."
Students who took part by preparing or serving food were Kalista Howard, Molly Morrison, Hunter Neathawk, Nancy Piche and Brandon Saucier.
Criminal Justice grads hired, students honored
Two former students have landed law enforcement jobs after graduating with Criminal Justice degrees.
Steven Milton and Nate Mandeville graduated from SMCC in December and have jobs awaiting them when they complete the 18-week Basic Law Enforcement Program they are now enrolled in at the Maine Criminal Justice Academy in Vassalboro.
Upon completion, Mandeville will become a member of the Westbrook Police Department, while Milton will go to work for the Freeport Police Department, according to Criminal Justice Professor Kevin McDonald.
Meanwhile, five current Criminal Justice students were recognized by the South Portland Police Department with Citizen Service Awards during a ceremony on Feb. 10. The students were recognized for assisting the police department with its Open House event as part of the students' Community Policing Class.
The five students are Aaron Bailey, Xavier Gagne, Oleg Novogradov, Eric Profenno, Evelyne Uwimana and Michael Pickle.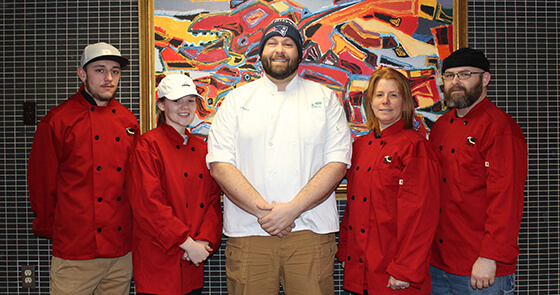 SMCC students to test their culinary IQ
Quick, name four of the five ingredients in Chinese five-spice powder. What term describes the meat from the cheek of a hog? What mushroom has a crunchy texture, an almost fruity flavor and is also known as a snow puff mushroom?
Five SMCC culinary students will be answering similar questions when they compete in an upcoming "Jeopardy"-style competition testing their culinary knowledge.
The Baron H. Galand Culinary Knowledge Bowl will take place at the American Culinary Federation's regional conference in Charlotte, N.C., on Feb. 26-27. In all, a dozen teams (nine from the Northeast region and three from the Southeast) of culinary students will compete.
Regional winners will go on to the national competition in New Orleans this summer.
Representing SMCC are students Avery Anderson, Taylor Feehan, Mark Kurkjy, Jim LeBlanc and Nancy Piche. They will be accompanied by Culinary Arts Professor and teach coach Tony Poulin and Culinary Arts Chair Maureen LaSalle.
Besides taking part in the Knowledge Bowl, students will hear from guest speakers, take part in workshops and have a chance to meet chefs from along the entire East Coast at networking events, said Kurkjy, the team's captain.
"I am extremely competitive, so just the opportunity to compete in the competition is a big draw for me," he said.
For those with culinary curiosity, the answers to the above questions are cinnamon, cloves, fennel seeds, star anise and Szechuan pepper; jowl; and an enokitake mushroom.
Photo caption: Knowledge Bowl participants (from left) are Avery Anderson, Taylor Feehan, Mark Kurkjy, Nancy Piche and Jim LeBlanc.