Fall registration dates moved up by a month
SMCC has moved its fall registration dates up by a month, allowing students to get a head start on signing up for classes for the Fall Semester.
With registration moved up, SMCC has also changed Advising Month from April to March. During Advising Month, the Advising Office steps up efforts to help students reach their academic goals while saving them time and money.
Students are encouraged to meet as soon as possible with their faculty advisor or stop by the Advising Office to review degree audits, figure out which courses they need, create a schedule and register for classes.
Registration this year begins Monday, March 4, for current students who have earned 30 or more credits. Current students with less than 30 credits can register beginning Wednesday, March 6.
SMCC this semester is also offering priority registration for veterans for the first time. No matter how many credits veterans have, veterans who are current students can now register as early as the first day of registration, March 4.
To further help students register for the Fall Semester, SMCC is holding a walk-in immunization clinic from 9 a.m.-2 p.m. on Wednesday, March 6, in the South Portland Campus Center. Maine Law requires all degree-seeking students and full-time, non-degree students born after December 31, 1956, to provide the following proof of immunizations:
One dose of Tetanus/Diphtheria (Td or Tdap) received within the last 10 years.
Two doses of Measles, Mumps and Rubella (MMR) received after your first birthday.  If measles immunization was done prior to 1968, students must provide proof it was done with a live virus.
SMCC has made arrangements so no payment is required at the clinic. Instead, students will give permission for the charges to be added to their bill.
If you have a primary doctor, bring a prescription for the vaccination. If you have insurance, be sure to bring your insurance card.
Questions? Please contact the Advising Office at advising@smccME.edu or 741-5835.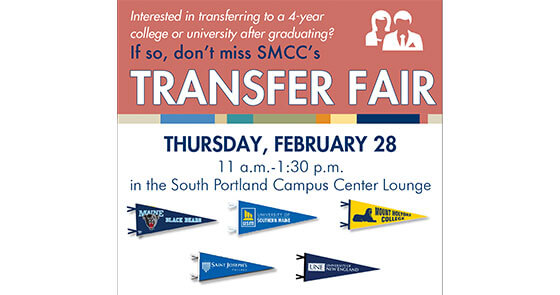 Transfer Fair to feature 20 colleges and universities
Twenty colleges and universities in Maine and beyond will be represented at the spring Transfer Fair where students can learn about transfer opportunities after graduation.
The fair is scheduled from 11 a.m.-1:30 p.m. on Thursday, Feb. 28, in the Campus Center.
The fair allows students to do some one-stop shopping by learning about schools' academic programs, financial aid, student life and other things that go into deciding where to transfer.
The participating schools are:
Husson University (Maine)
Maine College of Art
Maine Maritime Academy
Merrimack College (Massachusetts)
Norwich University (Vermont)
Plymouth State University (New Hampshire)
Purdue Global
Southern New Hampshire University St. Joseph's College of Maine
Suffolk University (Massachusetts)
Thomas College (Maine)
Unity College (Maine)
University of Maine
University of Maine at Augusta
University of Maine at Farmington
University of Maine at Machias
University of Massachusetts Lowell University of New England
University of Southern Maine
Vermont Technical College
Career fairs connect students to employers
Job fair season has kicked off at SMCC with last week's horticulture job fair, with another five job fairs scheduled throughout the Spring Semester.
The job fairs connect students with companies that are looking to hire ― helping students in search of jobs while also helping businesses in search of employees.
The horticulture job fair was held Feb. 20, attracting nearly three dozen businesses and organizations representing a wide cross-section of the horticulture industry.
The number of program-specific job fairs has been on the rise the past couple of years at SMCC. Besides the horticulture program, program-specific events connecting students to potential employers are scheduled for the Automotive Technology, Culinary and Hospitality Management, Criminal Justice and Communications & New Media Studies programs this semester.
There will also be an all-majors job fair open to all students interested in meeting employers in many different fields. That job fair is now scheduled for April 26.
Photo: Students met with potential employers at the Feb. 20 horticulture job fair.
Veterans' resources showcased at seminar
Military veterans learned about the variety of resources that are available to them from government agencies and organizations at a Feb. 20 event organized by the SMCC Student Veterans Organization.
The event in Jewett Auditorium featured representatives from the Maine Veterans' Service; Veterans Upward Bound; Team Red, White and Blue; the Portland Community-Based Outpatient Clinic; the Portland Career Center; the Portland Vet Center; the Lewiston Vet Center; the Maine State Approving Agency for Veterans Educational Programs; and Easter Seals.
SMCC Student Veterans Organization President Nate Russell said he organized the event because veterans have many benefits available to them while they are in the service, but many of them aren't aware of the multitude of available resources once they are out.
"This is a showcase to what services are available out there to veterans," Russell said.

SMCC hosts SkillsUSA competition for 4th straight year
Fourteen high school students from across Maine put their skills to the test on precision manufacturing tools at Southern Maine Community College for the statewide SkillsUSA Maine Precision Machining and CNC Technician Competition.
Students from Center for Technical Education schools in Dexter, Mexico, Portland, Rockland, Sanford and Waterville manufactured a variety of metal components on manual mills and lathes in SMCC's precision machining lab for the Feb. 14 competition. Other students operated Computer Numerical Control (CNC) machine simulators for the CNC technician portion of the competition.
The winner of the CNC competition will represent Maine in the national SkillsUSA CNC technician competition in Louisville, Ky., in June.
This was the fourth straight year that SMCC has hosted the competition.