Share your ideas at The Community Conversation
Southern Maine Community College wants to hear from you. Come share your ideas, thoughts and opinions during our lively Community Conversation.
SMCC is encouraging students, faculty and staff to attend the event, which takes place in the HUB gym on Friday, Feb. 24, from 1-4 p.m.
This is the third consecutive year SMCC has hosted a community get-together where students, employees and community partners can have a conversation about issues and opportunities that are important to us. To ensure full participation, classes will be suspended and offices closed during the event so everyone can participate.
The theme of this year's gathering is "Living our values: Challenging each other to do the right thing," in which we will discuss the idea of doing things differently across our campuses now and in the years ahead. This is a chance for students, faculty, staff and community partners to come together and have a conversation about civil discourse, integrity and engagement.
Hands-on laboratory research
Eleven SMCC students and two faculty members spent a week over winter break in January living and working at Mount Desert Island Biological Laboratory in Bar Harbor for an intensive course conducting real-world genetic research.
The students used a cell culture of human liver cells to demonstrate that additional fatty acids in the media results in fat accumulation in the cells. The cells are grown in a petri plate and serve as a model for a condition observed in liver cells of patients with nonalcoholic fatty liver disease (NAFLD), a condition that is seen along with obesity and diabetes and that can progress to more serious liver disease.
As part of the week-long research project, the students were taught how to grow the liver-derived cells, how to stain the cells to assess fat accumulation, and how to transfect the cells with DNA to cause the cells to overexpress a protein called Foxa1. Evidence suggests that Foxa1 may be able to inhibit fat accumulation in liver cells, so the students also learned to use a technique to look for changes in the genes as well as any change in fat accumulation.
"My experience at MDIBL was one of the best educational experiences I have ever had," said Carla Woodward, a Biotechnology major. "I learned a tremendous amount and gained a large amount of experience in such a short amount of time."
The group included six students in the Biotechology program (Woodward, Christopher Aniampam, Rachel Cormier, Cameron Fudge, Suzanne Martin and Kathleen Pyburn); three in the Liberal Studies-Science program (Isabelle Russell, Emily Torrey and Samantha White); one in Marine Science (Emily Haggett); and one in Liberal Studies (Taysier Elshaikh). They were joined by Professors Daniel Martin and Brian Tarbox, and the class was taught by Professor Kristy Townsend of the University of Maine at Orono.
This course was supported by an Institutional Development Award (IDeA) from the National Institutes of Health. This is the 10th year of support from the grant, which has also paid for SMCC students to do summer fellowships at places such as Bowdoin College, Bates College, University of New England and Maine Medical Center Research Institute.
These short courses and fellowships give students hands-on experience, confidence and new skills.
"I greatly enjoyed visiting MDIBL and learning about all the research they do there," said Suzanne Martin. "The experience has increased my confidence in a lab setting and helped me develop new skills that I will be able to use in my future career."
Photo caption: These photos show (from left to right) Isabelle Russell, Emily Haggett, Emily Torrey and Kathleen Pyburn. Photos by Daniel Moore.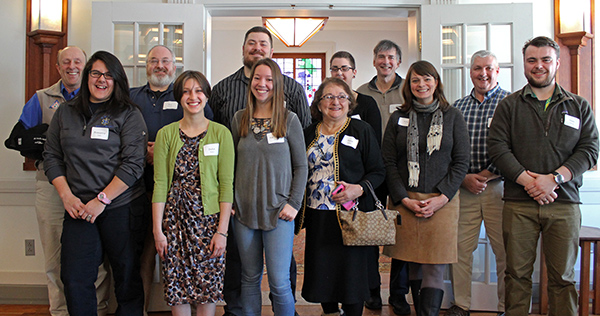 Scholarship recipients, donors saluted
SMCC has awarded more than $225,000 in scholarships this year to more than 200 students.
At a coffee reception last week, the SMCC Foundation recognized many of those students who received scholarships this year, as well as donors whose generosity has made the scholarships possible.
Additional receptions are scheduled in the coming weeks to pay tribute to more students and donors.
Scholarships help students by lessening the impact of tuition costs, reducing the amount of money students need to borrow and helping toward their academic success.
At the Feb. 10 reception, students said the grants are vital while they're attending college.
"For every student who gets a scholarship, it means a lot to us," said Breeana Zoidis, who earned a Fire Science degree last spring and is now studying Paramedicine. Breeana was recently hired by the Biddeford Fire Department.
The Foundation raises funds that enable the college to provide scholarship support for deserving students, to enhance academic programs and to revitalize classrooms and equipment.
Photo caption: From left to right, Fire Science Chairman Steve Willis; student Breeana Zoidis; EMS program Chairman Eric Wellman; student Dulce Moguel; student Whitney Cole; student Katherine Wood; Anne Madore of the Civilian Conservation Corps; student Danielle Knowlton; Criminal Justice Chairman Tom Joyce; Communications and New Media Studies Co-Chairman Kate Sibole; Criminal Justice Professor Kevin MacDonald; student Isaac McIntire.
Business Club fundraiser features food, music
SMCC's student Business Club got creative for its latest fundraiser, raising funds through fun, food and music.
On the evening of Jan. 29, the club raised $210 in a fundraiser at El Rayo Taqueria in Scarborough, which agreed to donate 10 percent of sales to the club. A packed crowd enjoyed good food and music provided by the ProfTones, a band that includes three SMCC professors: Steve Strand, Kevin Kimball and Mike Bove.
The money will go toward the club's volunteer events (Habitat for Humanity and Ronald McDonald House) and for its annual spring trip to New York City to visit Wall Street, the New York Stock Exchange, the Finance Museum and other sites.