Paying tribute to Dean's List students
Dozens of SMCC students, family members, friends, and SMCC staff and faculty took part in a January 31 recognition ceremony for students who made the Fall Semester Dean's List.
During the festive event at the McKernan Center, more than 50 students received Dean's List certificates from President Joe Cassidy and Academic Dean Paul Charpentier. In all, more than 1,200 students made the Dean's List in the fall.
To make the Dean's List, students must complete at least nine credit hours and have a GPA of at least 3.0, provided no grade is lower than a C and the student is not on probation.
For photos from the event, visit SMCC's Flickr site.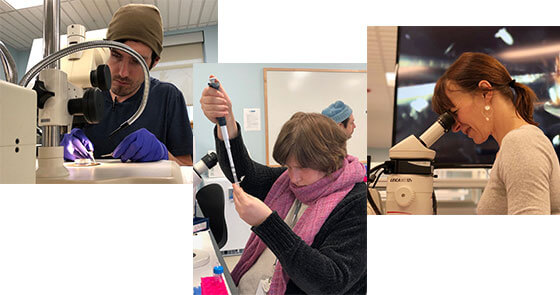 Hands-on scientific research at MDI Biological Laboratory
Twelve students and two faculty members from SMCC spent a week of their winter break living and working at Mount Desert Island Biological Laboratory in Bar Harbor for an intensive course focused on biomedical laboratory research.
During the January course, students identified several proteins that may play a role in the process of wound repair, using fruit flies as a model in the hands-on research. Students learned about things like genetics, bioinformatics, fluorescence microscopy and how to dissect and prepare tissue from a fruit fly.
Among the students was Marlys Furze, who said she was impressed to learn about all the hands-on scientific research opportunities available to SMCC students.
The research at MDIBL is supported by an Institutional Development Award (IDeA) from the National Institutes of Health. This is the 10th year of support from this grant, and it has also paid for SMCC students to do summer fellowships at research institutions including Bowdoin College, Bates College, University of New England, University of Southern Maine, Bigelow Laboratory for Marine Sciences and Maine Medical Center Research Institute.
"We are connected to MDIBL and the Maine INBRE (IDeA Network of Biomedical Research Excellence) collaboration network," Furze said. "Being connected to this network gives SMCC science and health-related students the ability to pursue hands-on experiences with people from around the globe who come to work, instruct and study here. I'll be checking out more opportunities to apply for over the next few months."
Students who participated in the course at MDI Biological Laboratory were Jumany Alhanfy, Isak Almeid Silva, Matthew Davis, Lily Cox, Hannah Drummond, Janet Eich, Marlys Furze, Angeline Herrick, Ian Lukas, Daniel Singer, Lindsay Stevens and Nicolle Teague. They were joined by Professors Daniel Moore and Brian Tarbox, who led the course along with Professor Vick Losick of MDIBL.
For photos from the weeklong course, visit SMCC's Flickr site.