Career Fair to feature 60-plus employers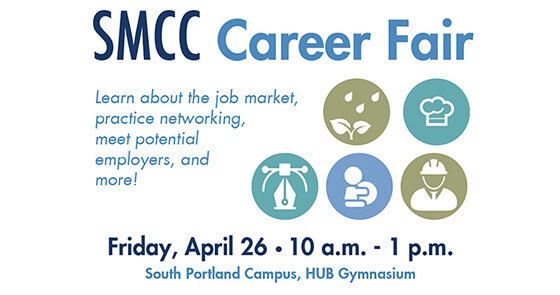 Brush up on your interviewing skills, dust off that resume and meet prospective employers face-to-face at the annual SMCC Career Fair.
More than 60 employers will be represented at this year's fair, to be held from 10 a.m.-2 p.m. Friday, April 26, in the HUB Athletic Center on SMCC's South Portland Campus.
Besides meeting with potential employers, you can practice your professional communication skills and learn about the job market outlook. Bring a resume and make a positive impression.
The participating companies and organizations are:
AAA Northern New England
Avesta Housing
Blue Tarp Financial
Bonney Staffing
Camp Nashoba North
Center for Autism and Related Disorders
City of South Portland
Coretelligent
Corning Inc.
cPort Credit Union
Dead River Co.
Gordon Food Service
Inn by the Sea
Kelly Services
Kennebunkport Resort Collection
Lanco Integrated
LearningWorks
Luke's Lobster
Maine Army National Guard
Maine Green Power/3Degrees
Maine State Parks
MaineGeneral Health
MaineHealth
Manpower
Martin's Point Health Care Center
MEMIC
NAPA Genuine Auto Parts
Native Maine
Nonantum Resort
Northern Light Health
ON Semiconductor
OTTO
Paradigm Operating Co. LLC
Pathways of Maine
Pine Tree Camp/Pine Tree Society
Piper Shores
Port Resources
Powder Horn Family Camping Resort
Pratt Abbott
Pratt & Whitney
Production Services of Maine
ScribeAmerica
Sea Coast Management
Securitas Security Services
SequelCare of Maine LLC
Sodexo
Spectrum
Spectrum-Charter
Staff Hunters
State of Maine-Office of Child and Family Services
Symphony Talent C/O The Home Depot
Texas Instruments
The Holy Donut
Tilson Technology Management
Toddle Inn Child Care
TRC Companies Inc.
Tyler Technologies
Tyson Foods
S. Army
S. Customs and Border Protection
S. Navy
UNUM
Westin Portland Harborview Hotel
Woodlands Senior Living
Wright-Pierce
York Hospital
For more information, contact Margaret Brownlee at mbrownlee@smccME.edu or 207-741-5995.
On-campus jobs help students build resumes, explore options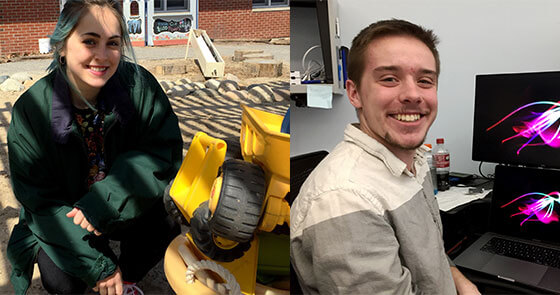 SMCC student workers help keep the college running smoothly, but those campus jobs are great career boosters too. Whether they are exploring possible careers or honing their skills, jobs on campus help students achieve their goals and explore their interests while they earn money for school.
Just ask Evelyn Goulette, a first-year student working at the Spring Point Children's Center on campus. She originally took the job thinking it would dovetail nicely with her major, giving her experience with young children in case she wanted to be a child psychologist.
But because of her experience here, she has switched directions and is now exploring other career options ― perhaps as a teacher.
"I'm now focusing on my other interests in music and the arts, and I'm thinking maybe of being an art teacher," Evelyn said. "Being here has shown me that I have the patience and ability to do that."
Evelyn is one of many students who have on-campus jobs that tie directly to careers. With 350 student workers on campus this academic year, there are ample opportunities for students to build resumes and look into various career options.
Alex Kennedy is an SMCC alum who can't speak highly enough of what his campus job did for him. He arrived in the fall of 2015 as a Cybersecurity major, and took a job with the SMCC Information Technology Department.
He responded to HelpDesk requests, problem-solved equipment issues in classrooms, designed databases, and worked on myriad special projects. When he graduated, he was asked to fill in as contract worker for an employee that had just left SMCC. He applied for and got the job on a permanent basis, and now he helps run the student worker program where he first got his start.
"It's absolutely true that you can come here for two years, get an awesome degree, and you get to go into the workforce," he said. "However, if you're a student worker you leave here with that degree and with two years of experience in your field already, you kind of have a leg up on the competition."
To learn more about how to find student employment positions at SMCC, visit My Money on the MySMCC student portal and click on "Find an on-campus job."
Photo: Evelyn Goulette and Alex Kennedy
On the road: Biz Club visits world's financial capital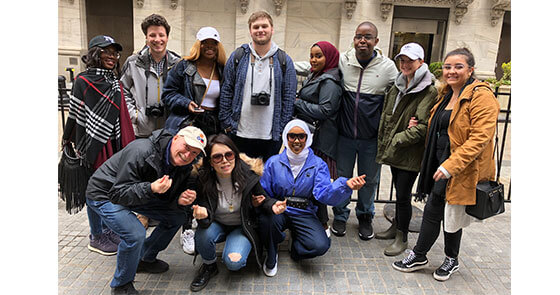 Ten SMCC students visited the world's financial capital during the Business Club's annual trip to New York City.
The club traveled to New York on April 11 for three days of sightseeing, learning and bonding.
Among the highlights focusing on business were a tour of Wall Street and stops at the New York Stock Exchange, Federal Hall, the Federal Reserve, the Alexander Hamilton Customs, the famous Charging Bull bronze sculpture and other iconic business-related sites.
Students also visited the 9/11 Memorial & Museum, located where the Twin Towers once stood, as well as Times Square, the Empire State Building, Broadway, Central Park, Chinatown and other places.
Accompanied by Business Professor Steve Strand, student participants were Hafza Abukar, Zahra Abukar, Kaitlin Foster, Dani Horta, Conner Hudson, Daniella Mawika, Nkana Ngaliema, Steven Ntbandeste, Yu Shi and Ian Smith.
The trip was funded by the SMCC Student Senate, the Business Club and the students themselves.
Photo: Professor Steve Strand and Business Club students are shown outside the New York Stock Exchange.
Spotlight shines on photo and drawing exhibits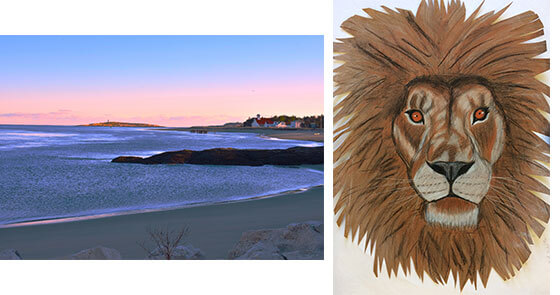 Stop by the South Portland Campus Center to see two exhibits that feature impressive photos and drawings by SMCC students.
Photos taken by students in Christian Farnsworth's Photo II class are hanging in the Learning Commons, where they will be on display until May 9.
Drawings by students in John Knight's Drawing I are on exhibit nearby, in the Library, where they will remain until early May.
The photo exhibit, called "Shooting the Breeze," features photos where students worked with a variety of production techniques, including 35mm and 120mm film, scanner image photos and cyanotypes, along with digital photography.
The exhibit of drawings is called "Marked Animals," in reference to the drawn marks that make up the animals.  It could also suggest that they are hunted or endangered, or refer to the animals' varied markings.
The students were free to draw any animals they wanted using red and white conte crayon, white chalk and charcoal, with the animals then cut to the desired shape.