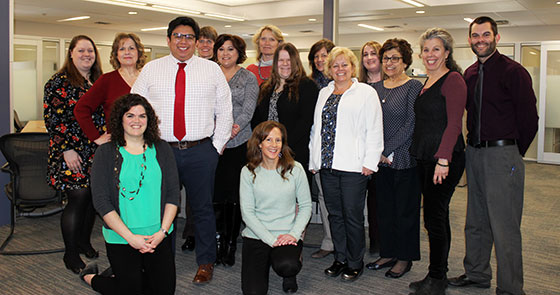 Advising Month helps students save time, money
SMCC's advising services are here to help you reach your academic goals while saving you time and money.
SMCC faculty and staff are gearing up for Advising Month, boosting efforts to encourage students to take advantage of advising services. Advising Month runs through the month of April.
Students are encouraged to meet their faculty advisor or stop by the Advising Office to review degree audits, figure out which courses they need to take, create a schedule and register for classes for next semester.
A number advising sessions with faculty and staff advisors have been scheduled throughout the month at both the South Portland and Midcoast Campuses.
Registration for the Fall Semester begins Monday, April 9, for students who have earned at least 30 credits, and Wednesday, April 11, for current students who have earned less than 30 credits.
Photo caption: SMCC staff advisers are here to help students succeed.
Scholarship recipients, donors saluted
The SMCC Foundation paid tribute in late March to students who have received Foundation scholarships and donors who have contributed to those scholarships.
The Foundation hosted four receptions the week of March 26 to recognize students who received scholarships, as well as the donors whose generosity has made the scholarships possible.
The Foundation this year awarded about 215 scholarships totaling $188,000. The grants help lessen the impact of tuition costs, reduce the amount of money students need to borrow and help toward their academic success.
At a March 26 reception, horticulture student Calie Ramisch said the scholarships allow her to focus more on her studies rather than stressing about how to make ends meet.
"It's made all the different to receive a scholarship," she said.
At another reception three days later, culinary arts student Nancy Piche said she's been able to work less in her job as a firefighter and paramedic in Biddeford thanks to scholarships she's earned this year and last year.
"These scholarships," she said, "have meant the world to me."
Photo caption: Shown here at a March 27 SMCC Foundation reception are (front row, from left) are nursing students Bryn Arbuckle and Adrienne Rush, with Winifred York of the Maine Eye & Ear Infirmary. In the back row are nursing students Justin Bodamer, Jennifer Ainsworth, Karen Colby and Susan Begin, John Boyne of the Boyne Family Foundation, student Elizabeth Wise and Nursing Department Chair Michael Nozdrovicky.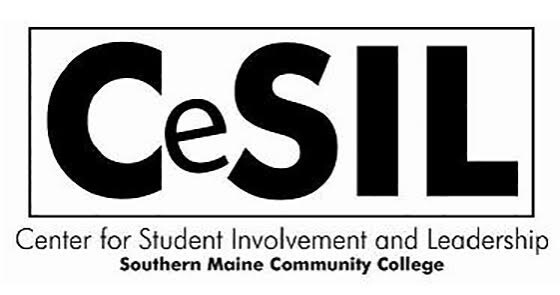 CeSIL Leadership Award nominations open
Nominations are being accepted for SMCC's annual student leadership awards.
SMCC students, faculty and staff are encouraged to make nominations for the awards, which recognize students, faculty and organizations for their accomplishments during the year. The winners will be announced at the Center for Student Involvement and Leadership's Leader of the Pack awards ceremony on April 30.
Award nominations are due by 12 p.m. Thursday, April 19. To cast your vote, click on this link.
The awards are:
Leader of the Pack. This award is given to students who have shown strong leadership in the classroom and in the campus community. They serve as positive role models to their peers and encourage others to get involved on campus.
Rising Star. This award is given to a new up-and-coming leader who shows strong potential to serve the campus community in future leadership roles.
Organization of the Year. This award goes to a student group that has gone above and beyond in its programming and campus involvement over the year.
Program of the Year. This award recognizes an outstanding program or event sponsored by the college or student organization during the 2017-18 academic year.
RA Program of the Year. This award recognizes an outstanding program or event that was implemented by a Resident Assistant.
Organization Advisor of the Year. This award is given to a student group advisor who goes above and beyond in support of students in the group.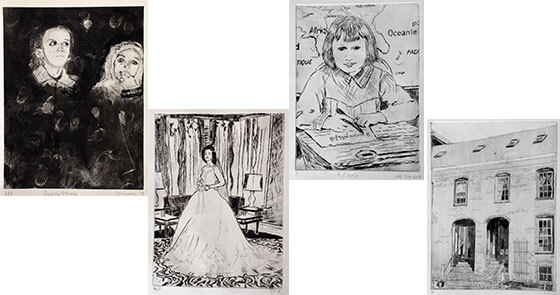 Printmaking students exhibit their work
Printmaking students are showcasing their work in an ongoing exhibit in the SMCC library.
Nine students in Mary Hart's printmaking course created prints based on two themes: "The Exquisite Corpse: A Surrealist Drawing Game" and "Memory and Forgetting." The prints are scheduled to hang in the library through the end of the semester.
For the surrealist project, students explored visual metaphors and drew images that represented their head/mind, torso/heart and legs/mobility.
For the memory project, they created prints to capture an image from their past and then use methods to emphasize how we forget parts of our past over time.
"I loved the variety of ideas that emerged, and the sensitivity the students brought to creating the images," Hart said.
The participating students were Mitch Bradshaw, Michael Claar, Robin Fagerlund, Hawa Jelle, Solange Kellerman, Deeqa Mohamed, Trisha Poulin, Ashlie Roderick and Naimo Ukash.
Photo caption: Among the prints in the show are these created by (from left) Deeqa Mohamed, Mitch Bradshaw, Trish Poulin and Solange Kellerman.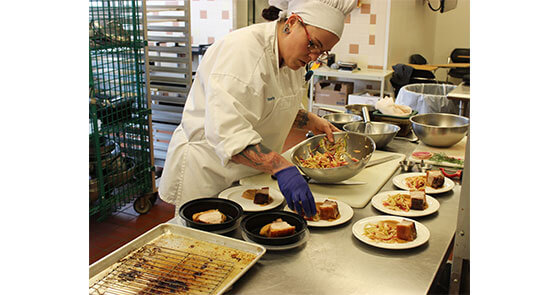 Culinary students put to the test
The local chapter of the American Culinary Federation holds a fundraising dinner each spring to raise money for scholarships for SMCC culinary students and other worthy causes. This year, for the first time, the dinner will showcase a dish prepared by an SMCC student.
Seven students created and served original small-plate dishes to a panel of judges in a Culinary Arts Center kitchen on March 22 to determine who would represent SMCC at the Chef's Touch Dinner, which will be held April 22 at the Marriott Sable Oaks in South Portland.
The winner of the competition was Stephanie Boulanger, whose smoked pork belly with moustarda, cannellini beans and spring slaw wowed the judges. Her dish will be among the offerings at eight or nine food tables that are set up at the Chef's Touch Dinner, which draws more than 300 people each year.
For the competition to determine which student would represent SMCC, all seven students prepared creative restaurant-quality dishes such as Korean beef, lamb kafta, Swedish meatballs, beet raviolis, chicken drumsticks and a cheese-and-bread plate.
Photo caption: Stephanie Boulanger puts the finishing touches on her pork belly dish that will be served at the April 22 Chef's Touch dinner.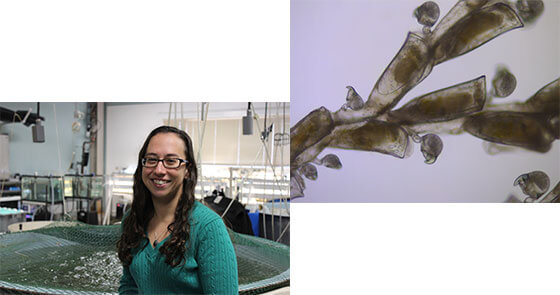 Marine Science instructor's research published in scientific journal
Marine Science instructor Megan McCuller is an author on three articles published in February in the scientific journal Aquatic Invasions.
The articles report on marine organisms that hitched rides across the Pacific Ocean following the 2011 Japanese tsunami. McCuller was part of a scientific team that worked on a study that collected and analyzed the remains of boats, docks and other structures that crossed the ocean and reached the West Coast and Hawaii in the years following the undersea earthquake off Japan that triggered a massive tsunami. That research was featured in a cover story of Science magazine last year.
For Aquatic Invasions, McCuller is the first author on two articles and a co-author of a third article regarding the trans-Pacific migration of ocean creatures following the 2011 tsunami. One of the articles focuses on a new species of cheilestome bryozoan (a marine organism) that she identified and named Bugula tsunamiensis.
Some of the work for the articles was done when McCuller worked at Williams College, but it was completed after she began teaching at SMCC in 2014. Many of the photographs for the articles were taken using microscopes at SMCC and an electron microscope in SMCC's partnership with Bates College.
"We now have a better idea of the kinds of animals (and algae) that can live on man-made objects over long distances in the open ocean, which is a low-productivity environment," McCuller said. "There may be a chance some of the Japanese species could establish populations on the West Coast of North America and affect native species."
The articles can be found on the Aquatic Invasions website.
Photo caption: In her research, Megan McCuller identified this new marine organism species. It is named "Bugula tsunamiensis McCuller, Carlton & Geller" after her and the paper's two other co-authors.