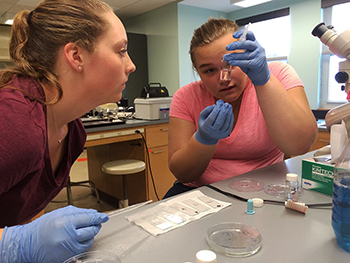 Six SMCC science students conducted laboratory research on zebrafish during a weeklong genetics course at Bates College in early August.
Students used a cutting-edge confocal microscope to examine cells in the ears of zebrafish after the fish were exposed to chemicals that cause oxidative stress. The research observations will be used to suggest future research directions for studies carried out at Bates College.
The six SMCC students included four biotechnology majors (Jenna Targett, Guy Seavey, Derek Theriault, and Allison Aker) and two Marine Science majors (Emily Johnson and Hannah Morrish).
The course was led by SMCC Professors Daniel Moore and Brian Tarbox along with Bates Professors Larissa Williams and Travis Gould.
Derek Theriault said the course was hands-on learning at its best.
"These courses have taught me both how to ask scientific questions and how to answer those questions using cutting-edge technology," he said. "The networking opportunities and one-on-one conversations with professors are invaluable. These courses get me excited to pursue a degree and a career in science."
This research is supported by an Institutional Development Award (IDeA) from the National Institutes of Health. This is the seventh year of support from the grant, which has also paid for SMCC students to do summer fellowships at Mount Desert Island Biological Laboratory, Bowdoin College, Bates College, University of New England, and Maine Medical Center Research Institute.