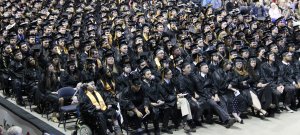 Southern Maine Community College awarded more than 1,000 degrees and certificates Sunday as hundreds of students were joined by family and friends at the College's 70th commencement.
In all, 1,022 students earned 1,040 degrees and certificates during the past academic year, with ​more than 500 of them participating in Sunday's graduation ceremonies at Cross Insurance Arena in Portland.
​S​tudents in the Class of 2017 came from all 16 Maine counties, 16 other states and 16 foreign countries. Thirteen percent of the graduates – 130 students – were members of the Phi Theta Kappa Honor Society.
Among this year's graduates is Zakia Momand, who didn't attend school because of cultural barriers while growing up in Pakistan. When she moved to Portland in 2009, she spoke no English and had little formal schooling.
She is graduating with a degree in Liberal Studies and plans to transfer to a baccalaureate institution before going to law school. She hopes to eventually practice law in Afghanistan — her parents' native country — focusing on women's rights and human rights.
Coming to SMCC sparked her interest in both human rights issues and the law, she said.
"Now I know what I want to do, and it's because of SMCC," she said. "The college and the people here helped me shape my goals for the future."
SMCC President Dr. Ron Cantor presided over the ceremonies. Bill Green, an award-winning broadcast journalist and host of the "Bill Green's Maine" television show, was the keynote speaker.
"Graduation is a time for us to celebrate the many achievements of our students, while looking forward to their continued success as they begin their careers or continue their education," Dr. Cantor said. "The Class of 2017 has distinguished itself, and our graduates can go anywhere from here."
More than 94 percent of SMCC students enter the workforce or transfer to another school within nine months of graduation.
2017 graduates who are continuing their education are planning to attend the University of Southern Maine, the University of Maine and the University of New England and other institutions in Maine as well as other private and public schools that include Bentley, Emerson, Lesley and the Culinary Institute of America.
Graduates entering the workforce have landed jobs at hospitals, law enforcement agencies, restaurants, fire departments, creative agencies and other companies and organizations in Maine and elsewhere.
Derek Theriault, who earned a biotechnology degree at SMCC, is transferring to the University of Pittsburgh's nationally recognized biotechnology program. He was also accepted at five other universities, all of which offered him competitive financial packages and accepted nearly all the credits he earned at SMCC.
Coming to SMCC stoked his passion for learning, Theriault said.
"When I came here, I quickly learned how engaged the staff and faculty were in student success," he said. "I've tried to take advantage of as many learning opportunities as I can. There have been a lot of opportunities for hands-on learning here."