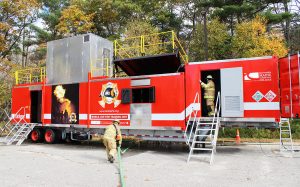 The Maine Fire Service Institute has a new piece of state-of-the-art training equipment that will be used to train firefighters from across Maine in advanced firefighting techniques.
MFSI this month received a containerized live-fire training trailer that utilizes real flames, extreme heat, restricted visibility and dense smoke to allow firefighters to train for emergencies in realistic conditions. The trailer was paid for through a $460,000 federal U.S. Fire Administration Assistance to Firefighters Grant.
"This advanced equipment will give Maine firefighters the necessary skills to fight fires in many different situations," said Jim Graves, director of the Maine Fire Service Institute. "The trailer can replicate different types of fires and train emergency responders in many key aspects of firefighting."
The Maine Fire Service Institute is a department of SMCC and provides training and education services to Maine's fire agencies and firefighters. It is located at SMCC's Midcoast Campus in Brunswick.
The training trailer is manufactured by Drager, a leading international company in the safety and medical technology fields. MFSI firefighting trainers participated in two days of training on the equipment on Monday and Tuesday.
Graves said the purchase of the training trailer wouldn't have been possible without the support of Maine's congressional delegation: U.S. Sens. Susan
Collins and Angus King, and U.S. Reps. Chellie Pingree and Bruce Poliquin.
"These federal grants provide critically needed resources that equip and train first responders," Maine's congressional delegation said in a statement. "This investment is vital in training Maine's firefighters and enhancing the safety of the public and our emergency responders."