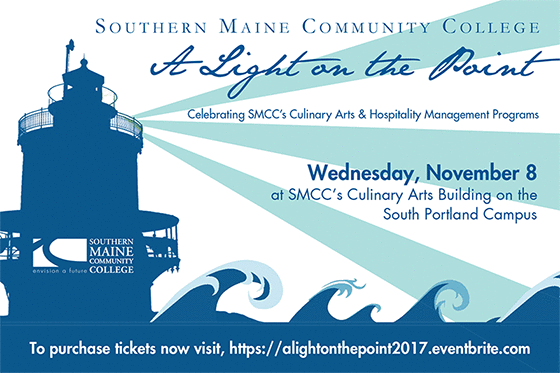 Southern Maine Community College is hosting a celebration of its Culinary Arts and Hospitality Management programs with a gala reception featuring renowned Portland-area chefs and mixologists.
The public is invited to the event, A Light on the Point, which will be held Nov. 8 at SMCC's Culinary Arts Center. A reception will be held from 6-8:30 p.m., preceded by a VIP cocktail hour from 5-6 p.m.
The event benefits SMCC's Culinary Arts and Hospitality Management programs, student scholarships and the President's Emergency Fund, which provides financial support to deserving students who are experiencing unexpected financial difficulties.
"Maine's restaurant and hospitality industries bring in more than $3.5 billion in revenues each year, making them a vital part of Maine's economy," said SMCC President Ron Cantor. "A Light on the Point shines a light on our Culinary Arts and Hospitality Management programs in preparing skilled employees for this dynamic sector."
This year's A Light on the Point celebration will feature chefs from Central Provisions, David's Restaurants, Evo Kitchen and Bar, Lolita Vinoteca and Asador, Piccolo, Sur Lie and Union, who will partner with SMCC students in preparing and serving light fare. The VIP cocktail hour will feature mixologists from Portland Hunt & Alpine Cub and Fore Street, as well as oysters from Eventide.
The event will also pay tribute to the American Culinary Federation's local chapter, the Casco Bay Culinary Association, for its many contributions to SMCC and the culinary and hospitality industry through the years.
The association holds an annual Chef's Touch dinner, which raises scholarship money for students enrolled in SMCC's Culinary Arts program. The scholarship is named for former longtime Culinary Arts program Chair Wilfred Beriau for his unwavering commitment to SMCC, the ACF and the culinary arts profession.
Tickets to the event can be purchased at https://alightonthepoint2017.eventbrite.com. For information about sponsorship opportunities, please contact Joan Cohen, executive director of the SMCC Foundation, at jcohen@smccME.edu or 741-5559.