Alumni Profile
Abraham Lorrain, launch pad to success
SMCC stoked Abraham Lorrain's interest in science and served as the launch pad to where he is now as the co-owner of a craft-beer company whose products are distributed in five states.
A self-admitted "free spirit," Lorrain took off a few years after high school before enrolling at SMCC, drawn by the professors and the good things he had heard about the school.
While taking a biology course, a professor recognized his aptitude for science and suggested that he major in biotechnology. So he did just that, earning a degree before transferring to the University of Southern Maine, where he earned a bachelor's degree in biology and chemistry.
Not long after, his father suggested they start a craft beer company together on his father's farm in the small southern Maine town of Lyman. Together they launched Funky Bow Brewery & Beer Co. and began selling their IPAs, pale ales and other selections across Maine.
Thanks to his education in biology and chemistry, Lorrain understood fermentation, yeast and all the other scientific ins and outs of making a high-quality craft beer. Funky Bow last year produced about 4,000 barrels of beer ― that's 126,000 gallons or 1.35 million 12-ounce servings. Funky Bow beer is distributed in Maine, New Hampshire, Massachusetts, Rhode Island and New York.
The Funky Bow brewery and farm is also open to the public three days a week, serving up pizza, music and brewery tours.
Lorrain said his education at SMCC propelled him into a successful business with his father.
"If I didn't have the science degree, I wouldn't be standing where I am now. If I didn't know how to start a lab or culture yeast or know what microbiology is with the malt and hops, I'd be light years behind."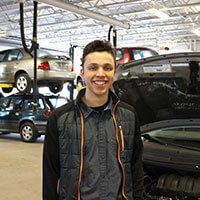 Student Profile
Alex Goodwin, '72 Mustang
Alex Goodwin likes working with his hands on his car, a classic 1972 Mustang. Now he's earning a degree in Automotive Technology that will allow him to make a living working on cars.
Alex took a gap year after high school and then came to SMCC and studied video production. He enjoys making videos, but decided to enroll in the automotive program because he also likes working on cars and was looking for a field that would ensure stable employment after graduation. He hopes to still make videos on the side for fun.
Besides taking classes, he is a work-study student in the Automotive Technology Center's tool room, keeping track of tools that are checked out by other students while familiarizing himself with all the tools of the trade.
Alex used to ride a motorcycle, but when he was 20 he decided it would be nice to own a vintage car.
When he came across a 1972 Mustang that he could afford, he jumped at it.
Based on what he hears and the fact that more than 20 potential employers showed up at his program's job fair, Alex is confident he has a bright future as a mechanic.
"I'm 100 percent sure it'll be easy to get a job once I'm done at SMCC."