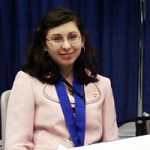 Alumni Spotlight
Rachel Champoux, USAF scientist
Rachel Champoux was the youngest graduate in SMCC history when she earned a degree at age 16. Now she's a computer scientist at the U.S. Air Force Research Laboratory in Rome, N.Y.
Rachel came to SMCC at age 14 after being home-schooled by her mother. She excelled at SMCC, earning a near-perfect GPA, serving as president of Phi Theta Kappa, heading the Student Senate activities committee and being named Maine's New Century Scholar.
After graduating in 2011 with an associate degree in Liberal Studies with a concentration in Math, she earned a bachelor's degree at the University of Southern Maine and a master's at State University of New York-Oswego.
She now works at the U.S. Air Force Research Laboratory where she takes computer data and translates it so it's useful and understandable for users of the information.
"The biggest thing I got out of SMCC was the freedom to explore a wide variety of subjects and figure out where I wanted to go. I took many classes over many disciplines because I wanted to learn as much as possible and see what it was I really liked."

Student Spotlight
Lydia Chick, young entrepreneur
Lydia Chick is getting a head start on her future. In addition to being enrolled in the Hospitality Management program, she has her own wedding planning company on the side.
After graduating from high school in 2015, Lydia attended college in Florida. But after a year there, she decided to come home and enroll in SMCC's Hospitality Management program.
After SMCC, she plans to earn a bachelor's degree in Hospitality and Tourism at the University of Southern Maine.
Lydia says she likes that SMCC has instructors with real-world experience, while providing her hands-on work experience planning events at the McKernan Center. She also operates her own business, Fern & Flair Wedding and Events (www.fernandflair.com), on a part-time basis.
"We have an awesome hospitality program in that most of the professors have worked or work in the field or own their own business. It's great to have all those perspectives rather than just theory from a book."