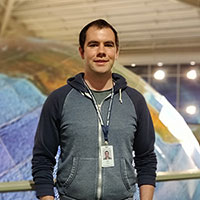 Alumni Profile
Will Pease, cutting-edge apps
Will Pease knew at a young age that he had a future in computers. Now he's working for the multinational technology company Garmin Ltd., developing apps that support fitness and outdoors products.
Will took a few years off after graduating from the Maine School of Science and Mathematics, a magnet high school in northern Maine focused on science, technology, engineering and math. When the time came for college, he chose SMCC and graduated in 2015 with 4.0 GPA in Computer Science.
While at SMCC, he also worked as a work-study student in the college's IT department, giving him hands-on work experience while earning his degree. He then transferred to the University of Southern Maine, where he graduated in 2017 with a bachelor's degree in Computer Science.
Before going to Garmin, Will worked as a software engineer for a Portland company called MedRhythms, helping develop a mobile app for software that delivers neurologic music therapy. Since February, he has worked in Garmin's offices in Yarmouth, helping develop mobile apps for the company's fitness and outdoors products.
One product he works on allows users to send messages from anywhere on Earth to anywhere else.
"I think I always knew I would get into a field like this. I was 5 or 6 messing around on my parents' computer, and they told me I was doing things on the computer that they hadn't figured out how to do."
Student Profile
Efstathia Bixhaku, PTK president
Efstathia "Efi" Bixhaku liked to watch crime shows on TV while growing up in Albania, and she developed a curiosity for psychology in high school. Now she's earning a Liberal Studies-Psychology degree at SMCC with the aim of combining her interest in crime and psychology to become a criminal profiler.
Efi was raised in Albania, a small country in southeast Europe that borders Greece, and moved to Maine in 2015 with her mother, sister and brother.
After graduating this spring, she plans to continue her education and earn an advanced degree in forensic psychology or something similar. Her ultimate goal is to become a criminal profiler, building profiles of criminal suspects based on investigative psychology and crime scene analysis.
When she's not in class or working 30 hours a week, Efi is the president of the Phi Theta Kappa honor society, motivated in part from her time with the Peace Corp Volunteers in Albania. Before becoming president, she had never been in a leadership position; but now she's spearheading a food drive with the Captain's Cupboard food pantry.
"I agreed to become president because I wanted to challenge myself and see how I'd do. I like to stay busy and interact with other people and contribute to things."