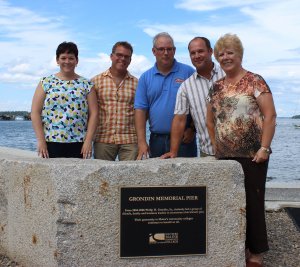 Southern Maine Community College has named its campus pier the Grondin Memorial Pier in honor of Philip H. Grondin, Sr. and the Grondin family's longtime contributions to SMCC and the Maine Community College System.
The pier on SMCC's South Portland Campus was dedicated Thursday during a ceremony attended by more than 80 people, including members of the Grondin family, friends, college and system employees, and supporters.
The pier was built between 2004-06 under the leadership of the late Philip H. Grondin, Sr., the cofounder of Grondin Construction, who enlisted the help of friends and supporters who were instrumental in razing the old pier and raising money for and building a modern replacement.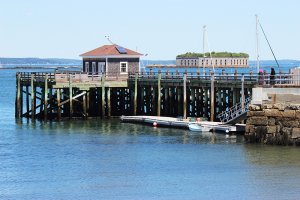 "We owe our heartfelt gratitude to Phil Grondin and the Grondin family for all they've meant to SMCC and the Maine Community College System," said SMCC President Joe Cassidy. "The family's selfless support and contributions have gone a long way toward benefiting the College and helping countless students."
The original pier on the SMCC campus was built in the mid-1800s and was simply known as the SMCC pier. In the early 2000s, it had fallen into disrepair and was no longer functioning as a learning platform for SMCC's Marine Science academic program.
Phil Grondin Sr. approached SMCC officials and spearheaded the effort to replace the pier. Through his initiative and the support of others who provided their time and expertise, the old pier was torn down and replaced with a new one, which opened in 2006.
"Our colleges have known many strong supporters, but I would be hard-pressed to identify anyone who has demonstrated the same long and loyal commitment as Phil Grondin," said Derek Langhauser, president of the Maine Community College System. "Phil worked tirelessly on behalf of our students, and his good spirit and energy convinced many others to join him. There could not be a more fitting tribute to him than the naming of this pier and all it represents."
The pier is used by SMCC's Marine Science program, which keeps a vessel there for students to perform ocean research. It's also open to the public and used by other organizations and agencies for research purposes.
Besides leading the pier replacement project, Phil Grondin Sr. founded the Sturdivant Island Tuna Tournament in 1998. Through the years, he helped grow it into the premier tuna-fishing contest in northern New England while raising over $1 million for Maine's community colleges and other worthy causes.
Phil Grondin's wife, Bette Grondin, said her late husband was committed to SMCC and Maine's community colleges.
"It's an honor to have the Grondin name on the pier," she said. "Phil always went out of his way to do what he could to help, whether it was raising money for scholarships or helping rebuild the pier. He always felt that kids who want to go to college should be able to go, that people who go to college go places."
Photo captions:  Bette Grondin (right), wife of the late Philip H. Grondin Sr., with their children (from left) Michelle Raber, Frank Grondin, Phil Grondin Jr. and Larry Grondin, by the new plaque naming SMCC's pier the Grondin Memorial Pier