Student Profile
Kathrine Norcott, all in the family
Kathrine Norcott isn't the only one in her family seeking a brighter future by coming to SMCC. While she's earning a degree in business, her husband is studying pre-engineering.
Kathrine, 29, moved to California after growing up and graduating high school in Maine. She returned to Maine several years ago and began attending SMCC.
Living in Southport along Maine's midcoast, she attends classes on the Midcoast Campus, studying business with a focus on marketing.
She hopes to eventually work for a Maine-based company with strong ties to the community. Her dream is to work for L.L.Bean, so it was fitting that she gave remarks at the Oct. 1 ribbon-cutting ceremony dedicating the Midcoast Campus' new L.L.Bean Learning Commons and Health Science Center.
"When I decided to go back to school, this was the place that connected with me. They were very understanding and supportive. I had been out of school for several years, so it was important to go with some place that I felt connected to."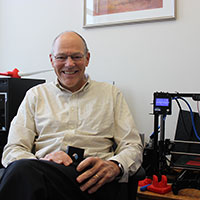 Faculty Profile
Dan Abbott, high standards
Dan Abbott holds his students to high standards. That way, he says, they'll succeed in the workforce after they graduate.
Dan teaches CAD (computer aided design), technical graphics, mechanical design and other courses in the Architectural and Engineering Design program. His students go on to work for architects, engineers, shipbuilders, contractors and others who utilize CAD.
A native of Rumford, Dan graduated college with a degree in psychology. But in time (after teaching at an Indian reservation in Arizona, attending law school and working as an administrator for the city of Portland), he realized what he really want to do was teach high school shop classes. He earned bachelor's and master's degrees in industrial education and taught industrial arts at Scarborough High School for five years.
In 1989, he was hired at SMCC to teach drafting and help design a CAD curriculum. He's so well-versed in CAD that he even wrote a book, "AutoCAD Secrets Every User Should Know," about CAD best practices.
"I'm very supportive of students and I love teaching. What I try to do when I'm teaching is put people in the position to make mistakes so they'll be put in a position to solve them. Then they won't be surprised when they're in the field."