Student Spotlight
Rebekah Marin, passion for writing
Rebekah Marin is a writer and editor for The Beacon student newspaper. Now she's hoping to transfer to a four-year school and earn a degree in journalism.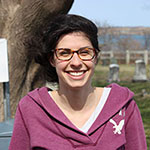 Rebekah came to SMCC in 2013 and majors in Liberal Studies with a concentration in English. She's been involved in Phi Theta Kappa honor society and the Emerging Leaders program and served on the student welfare committee.
Most importantly, SMCC has allowed Rebekah to discover and nurture her passion for English, writing and reading. After two years here, she plans to transfer to a four-year school for the fall semester and study journalism and/or writing.
"I always tell people even if I don't become a journalist, as long as I do something with writing I think I'll be happy. So I'm seeing where that will take me at this point."
Alumni Spotlight
Jenn Zerbato, from SMCC to Ph.D.
Jenn Zerbato was the first student to ever graduate from SMCC's biotechnology program. Soon she'll have a Ph.D. from the University of Pittsburgh.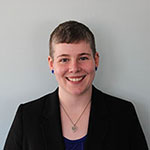 Jenn came to SMCC out of high school in 2005 and graduated in 2007, becoming the first in her family to earn a college degree. She continued to Smith College where she got a B.A. in biochemistry in 2010.
Wanting more, Jenn then went to the University of Pittsburgh, where she earned a master's degree and is now within a year of having her doctorate. At Pitt, she's doing biomedical research on HIV, the virus that causes AIDS.
Jenn, who visited SMCC in mid-April to give a talk about her studies, credits SMCC for giving her "real-life experience." She also credits Professor Elizabeth Ehrenfeld for her encouragement and unconditional belief that she would succeed.
"My biggest advice to students is to follow your heart. If you're passionate about something, go for it and something you love."