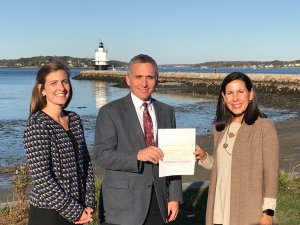 A recent gift of $5,000 from Acadia Insurance, through its parent company, W. R. Berkley Corporation, to The Foundation for Maine's Community Colleges will provide five, $1,000 scholarships for students enrolled in Southern Maine Community College's (SMCC) business administration program this year. The company intends to provide similar gifts in each of the next two years.
Second-year students enrolled in SMCC's business administration associate in science degree program will be eligible for the scholarships. Students in good academic standing will be nominated for the scholarship by faculty. Students with interest in entering the insurance industry will receive preference for the scholarship.
"We are thrilled to help develop the next generation of insurance professionals and business leaders," said Kay Whitmore, Vice President, Human Resources. "Providing support to Maine's community colleges means we have the opportunity to give back to the communities in which we work and live in a way that can bring long-term benefits to our industry and our state."
In addition to this new gift to support SMCC students, Acadia Insurance, though W. R. Berkley Corporation, has previously contributed a total of $30,000 to The Foundation for Maine's Community Colleges in support of student success initiatives within the Maine Community College System.
Based in Westbrook, ME, Acadia Insurance specializes in commercial property casualty insurance for small and midsize businesses throughout New England and New York State. More information is available at acadiainsurance.com.
The Foundation for Maine's Community Colleges is dedicated to ensuring that the state's seven community colleges have the resources they need to provide a high quality and affordable education for Maine people. The foundation seeks to enhance access to educational and economic opportunity and to provide Maine employers with a highly trained and skilled workforce. More information about the foundation is available at www.maineccfoundation.org. Information about the Maine Community College System is available at www.mccs.me.edu.
Photo caption: Kay Whitmore of Acadia Insurance presents a check in support of SMCC students studying business administration to Ron Cantor, President of Southern Maine Community College, and Jane Phillips, President of The Foundation for Maine's Community Colleges.