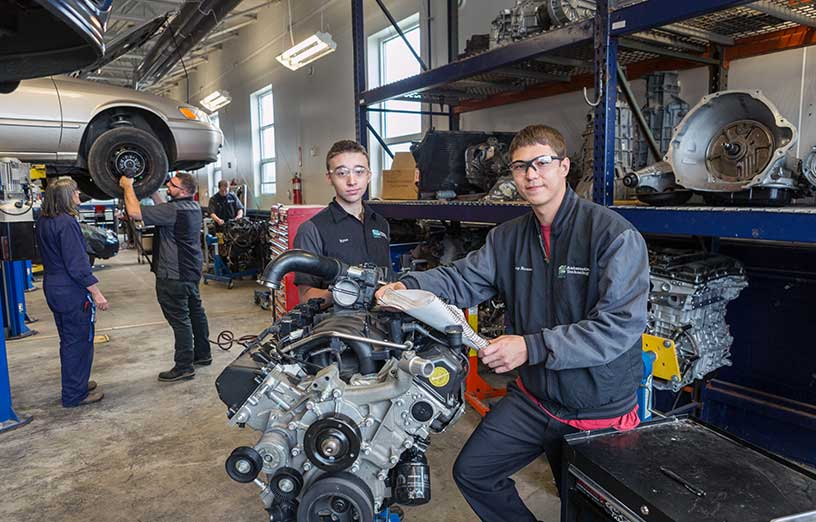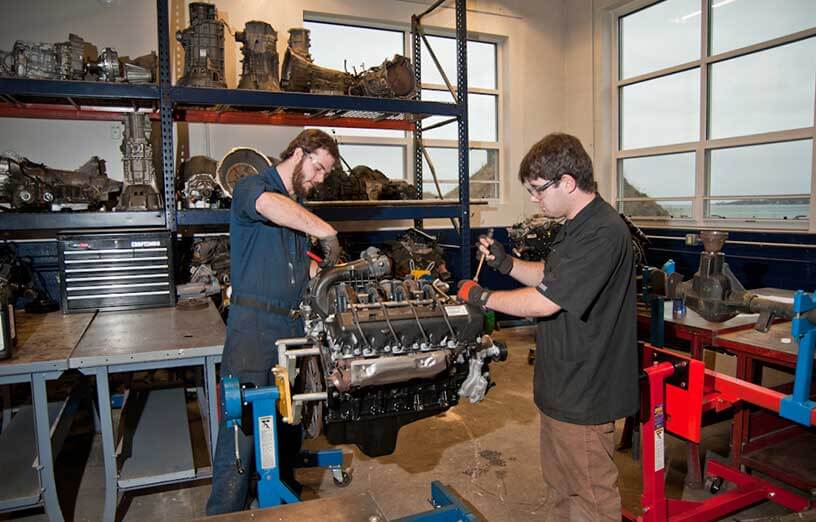 About our Automotive Powertrain Systems Certificate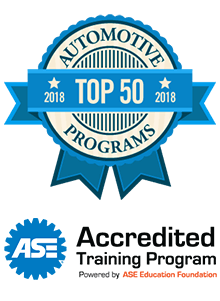 The Automotive Certificate in Powertrain Systems is the second of two Automotive Certificates at SMCC. The Automotive Certificate in Chassis Systems is a requirement for admission to the Automotive Certificate in Powertrain Systems. The Powertrain Systems Certificate involves classes in Engine Repair; Engine Performance; Manual Transmissions and Drivetrains; Automatic Transmissions; and Automotive Heating, Ventilation, and Air Conditioning.
Paired with the Automotive Certificate in Chassis Systems, the two programs are designed to prepare skilled technicians to work in the automotive industry in the areas of routine maintenance, steering and suspension, brakes, heating and air conditioning, engine repair and performance, manual and automatic transmissions, and drivelines. Opportunities for graduates include positions in dealerships, independent shops, automotive parts stores and companies with vehicle fleets. Graduates of the Automotive Certificate in Powertrain Systems may continue their education at SMCC in the Automotive associate degree program.
The program involves automotive lecture and laboratory instruction. Our shops are spacious and well-equipped with state- of-the-art technology. During labs, the student-to-teacher ratio is capped at 13:1, so learners get plenty of hands-on experience and instructor attention. Students may also work at a repair shop as part of the cooperative education phase of training. The program is accredited at the Master Automobile Service Technology level by the Automotive Service Excellence Education Foundation. We have strong support from community business partners. Full-time instructors with vast technical experience and education offer a nurturing learning opportunity for students.
This program prepares students to continue on to earn an Automotive Technology associate degree if desired.
Graduation Outcomes
Perform tasks to diagnose and repair components of automotive engines.
Perform tasks to diagnose and repair components of automotive engine performance systems.
Perform tasks to diagnose and repair components of automotive manual transmissions and drivetrains.
Perform tasks to diagnose and repair components of automotive automatic transmissions.
Perform tasks to diagnose and repair components of automotive heating, ventilation and air conditioning systems.
Equipment Requirements
What opportunities does this program provide?
Launch Your Career
SMCC graduates in this program have gone on to work as:
Automotive Technician
General Service Technician
Suspension and Steering Technician
Brake System Technician
Parts Specialist
Service Manager
Service Writer
Shop Owner
Earn a Degree
Interested in continuing your education upon completing this program? Explore these related associate degree programs:
How do I complete this program?
Browse the information below to view our program requirements and how you might complete this program.
Estimated Certificate Completion Time

Please note, these estimates are based on a student taking an average of 15 credits per semester and do not include college preparatory or developmental courses.
Interested in viewing full program and course details?
Are you a current student?
Be sure to view the degree program requirements for your specific program. Log into MySMCC and click My Maine Guide, MyDegree to learn more.
Related Programs
Not ready to commit to this program? We may have other options that work for you.
If this program doesn't seem like the perfect fit, whether it due to the time commitment or the type of training, we may have other options that work for you. Explore our short-term training courses, which are often free of charge, and other related certificate and degree programs.
Learn More: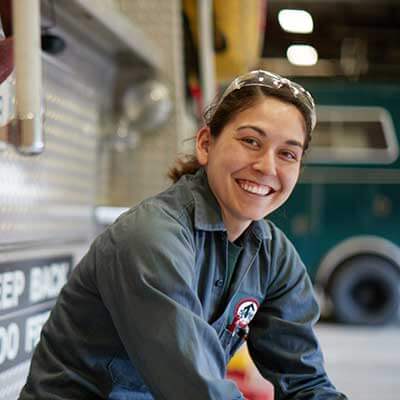 Costs & Financial Aid
This certificate program may have specific associated costs which are important to know before attending. We encourage you to apply for financial aid which provides funds in the form of grants and scholarship (free), loans (need to repay) and student employment (earned money.)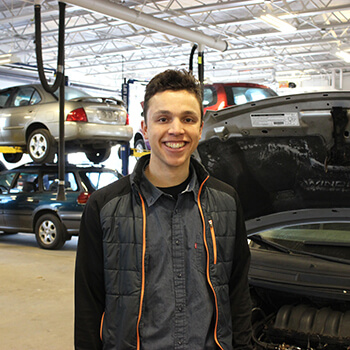 "The instructors at SMCC are great and are willing to help if you need it, even if it means staying late after class. As a work-study student, I also work in the Automotive Technology Center's tool room, keeping track of the tools that are checked out by other students while familiarizing myself with all the tools of the trade. We had more than 20 employers show up at our automotive job fair. I'm 100 percent sure it'll be easy to get a job once I'm done at SMCC."
Alex Goodwin
Automotive Technology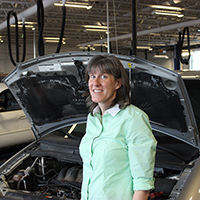 "I love getting to know our students and helping them find a way to make a living. Through our co-op program, SMCC students have internships at service centers in the area. Most of the jobs develop into full-time employment after graduation."
Ruth Morrison
Department Chair
Want to learn more?
Fill out a quick form and we'll reach out to provide more info.
Ready to apply?
Learn how to apply and fill out our online application when you're ready.
Contact Us:
Admissions: 207-741-5800 or admissions@smccME.edu 
Department Chair: Ruth Morrison, 207-741-5856 or rmorrison@smccME.edu
A three-credit class averages
LESS THAN
$400
Full-time tuition & fees
$3,880
PER YEAR
*Additional program costs may apply.
3 CAMPUSES
South Portland, Brunswick & Online