Associate Degree in Liberal Studies
On this page:

About This Program
It's a big world out there, and your opportunities are unlimited. That's good – and challenging. You know you need a college education to get ahead, but you're not exactly sure which path you want to take.
That's where SMCC's Liberal Studies program comes in. Through it, we give you exposure to numerous disciplines. This gives you the opportunity to try out different fields, from history to education, psychology to social work – and many other areas.
Not only does this give you a better sense of where you want your journey to go, but the program is also designed to ease the transfer to four-year colleges and universities – so you have your core general education and elective courses nailed down before you transfer.
Once you figure out where you want your future to be, SMCC encourages you to choose elective courses in a discipline that you can transfer into at the baccalaureate level.
Please note: You are only eligible to receive one Associate in Arts in Liberal Studies degree. You may not receive a second or subsequent degree in Liberal Studies with a different focus.
Area of Focus
Select one of the following to see detailed information about that focus:
Your Degree Courses
SMCC's Associate of Arts degree in Liberal Studies requires a mix of general education and liberal arts courses designed to prepare students to transfer to a four-year institution. Students are advised to consult with their transfer institution to determine which SMCC courses will transfer and meet future requirements. The following courses are only a sampling of what you might take as a Liberal Studies student and are subject to change.
Program Course Sampling
English Composition
Introduction to Literature
Electives in the following areas:
Current Major-Specific Courses Available
Interested in seeing some of the current major-specific courses being offered as a part of this degree program?
Graduation Requirements
Prospective Students
If you are thinking about attending SMCC and are curious what the current program course requirements are to earn your degree, download the current SMCC Course Catalog.
Current Students
If you are a current student, your program requirements may be different than those listed for the current catalog year. To view your specific program requirements or to search and register for courses, log in to MySMCC and visit the MyDegree webpage.
Graduation Outcomes
Demonstrate skills as critical thinkers, readers and writers.
Describe the interaction of history, culture, literature, economics and science as studied within a broad liberal arts curriculum.
Estimated Degree Completion Time


Please note, these estimates are based on a student taking an average of 15 credits per semester and do not include college preparatory or developmental courses.
Program Costs
View an estimate of costs to complete this program:

SMCC Graduates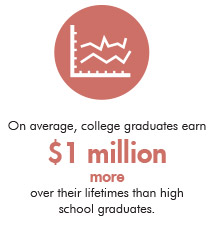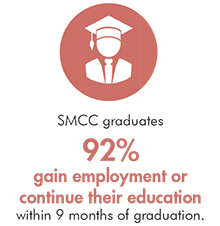 ---
Transfer Agreements for Liberal Studies