Associate Degree in Hospitality Management
On this page:

About This Program
The A.A.S. degree program in Hospitality Management provides students with a solid foundation in theory and current practices of the hospitality industry as well as a core of liberal arts and science courses that will prepare students for flexible career development. This degree focuses on one of the fastest-growing industries in the world: hospitality, to include focus areas in food and restaurant operations, lodging industry operations, events management and tourism.
This hospitality management degree program prepares students for first employment at a supervisory level, or continuation to a bachelor of hospitality management degree. The program includes a 160-hour internship program in the four most important departments of a hotel: concierge, front desk, events planning and night audit.
Your Degree Courses
Hospitality Management offers an Associate in Applied Science degree requiring a mix of general education and hands-on courses. The following courses are a sampling of what you might take as a student in this program and are subject to change.
Program Course Sampling
Introduction to Hospitality and Tourism
Lodging Operations
Hospitality Marketing
Events Management
Hospitality Financial Management
Human Resource Management
Food Service Management/Sanitation
Current Major-Specific Courses Available
Interested in seeing some of the current major-specific courses being offered as a part of this degree program?
Graduation Requirements
Prospective Students
If you are thinking about attending SMCC and are curious what the current program course requirements are to earn your degree, download the current SMCC Course Catalog.
Current Students
If you are a current student, your program requirements may be different than those listed for the current catalog year. To view your specific program requirements or to search and register for courses, log in to MySMCC and visit the MyDegree webpage.
Graduation Outcomes
Students will demonstrate broad knowledge of and proficiency in the core functional and support areas of hospitality businesses.
Know effective cost control methods and cost-saving techniques for hospitality services.
Plan menus and purchase, cost and price product for profit.
Demonstrate a working knowledge of hotel front office management and hospitality industry marketing.
Operate as an entry-level supervisor in operational departments within the hospitality industry.
Estimated Degree Completion Time


Please note, these estimates are based on a student taking an average of 15 credits per semester and do not include college preparatory or developmental courses.
Program Costs
View an estimate of costs to complete this program:

SMCC Graduates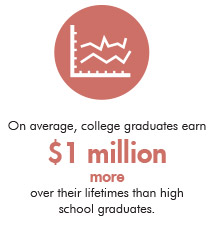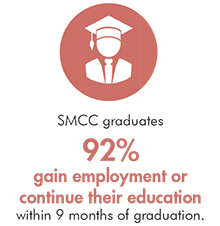 ---
Transfer Agreements for Hospitality Management
Hospitality Management, BAS
Southern New Hampshire University
SMCC Degree Program: Hospitality Management
View this Agreement »
Hospitality and Tourism Management, BS
Husson University
SMCC Degree Program: Hospitality Management
View this Agreement »