Associate Degree in Automotive Technology
On this page: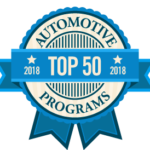 About This Program
The Automotive Technology program is designed to prepare skilled technicians to work in the automotive industry. The program involves general education as well as automotive lecture and laboratory instruction. Our shops are spacious and well-equipped with state-of-the-art technology. During labs, the student-to-teacher ratio is capped at 13:1, so learners get plenty of hands-on experience and instructor attention. Students may also work at a repair shop as part of the cooperative education phase of training.
The program is accredited at the Master Automobile Service Technology level by the Automotive Service Excellence Education Foundation. We have strong support from community business partners. Full-time instructors with vast technical experience and education offer a nurturing learning opportunity for students.
Opportunities for graduates include positions in dealerships, independent shops, automotive parts stores and companies with vehicle fleets. Positions may allow technicians to specialize in areas such as steering and suspension, brakes, transmissions and drivelines, engine repair and performance, climate control and electronics.
Your Degree Courses
Automotive Technology offers an Associate in Applied Science degree requiring a mix of general education and hands-on courses. The following courses are a sampling of what you might take as a student in this program and are subject to change.
Program Course Sampling
Automotive Maintenance and Light Repair
Steering and Suspension
Automotive Brake Systems
Electricity and Electronics
Automotive Business Operations
Automotive HVAC
Engine Repair
Manual Transmissions and Drivetrains
Engine Performance
Current Major Specific Courses Available
Interested in seeing some of the current major-specific courses being offered as a part of this degree program?
Graduation Requirements
Prospective Students
If you are thinking about attending SMCC and are curious what the current program course requirements are to earn your degree, download the current SMCC Course Catalog.
Current Students
If you are a current student, your program requirements may be different than those listed for the current catalog year. To view your specific program requirements or to search and register for courses, log in to MySMCC and visit the MyDegree webpage.
Graduation Outcomes
Equipment Requirements
Estimated Degree Completion Time


Please note, these estimates are based on a student taking an average of 15 credits per semester and do not include college preparatory or developmental courses.
Certificate Programs
Automotive Technology offers certificates in Automotive Chassis Systems and Automotive Powertrain Systems which require a mix of general education and hands-on courses.
To learn more:
Program Costs
View an estimate of costs to complete this program:

SMCC Graduates