The Southern Maine Community College Foundation is happy to announce the 2022 Light on the Point Award winners, which are listed below. The Foundation will host its annual Light on the Point fundraiser on Thursday, November 3 (view details here) to pay tribute to alumni, faculty, staff and the business community for contributions to SMCC and to recognize awardees.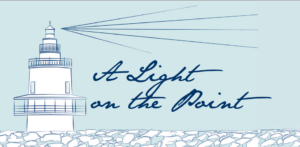 2022 LOTP Award Recipients:
Outstanding Faculty/Staff Award: Given to an SMCC employee who exceeds expectations while promoting the college's mission to both the internal and external community.

Awarded to: Andrew Napoli, SMCC Midcoast Maintenance Staff

Andrew successfully lead a team of four while maintaining the facilities, grounds and contractors that keep the Midcoast Campus running and looking great.

Outstanding Alumnus Award: Given to an alumnus of SMCC who has excelled in their industry and contributed to the greater well-being of the community and the College.

Awarded to: Robert Barrett, owner of Barrett Made and KIT NA Brewing

Since graduating from SMCC with two degrees, Robert Barrett has started two successful businesses: Barrett Made, an incredibly successful architecture and construction firm and KIT-NA Brewing, Maine's first non-alcoholic craft brewery
Outstanding Business Award: Given to a business or organization that has supported the College and/or made a significant impact within the business community.

Awarded to: MaineHealth, Martin's Point Healthcare, Maine Apprenticeship, InterMed and the Harold Alfond Center for the Advancement of Maine's Workforce

This partnership evolved from an industry need to increase the skill level and certification credentials for Medical Assistants. By focusing on skill attainment and proficiency, the team endeavored to combine work experience and academic achievement in a holistic, work-centered environment.

President's Award:

Awarded to: ProsperityME

As a non-profit service organization dedicated to financial education, ProsperityME has been helping New Mainers understand the American banking system since 2008. ProsperityME's work is rooted in service and dedication to serving immigrants, refugees, and asylees in the Greater Portland and Lewiston/Auburn areas.
Tickets & Sponsorships
Tickets to A Light on the Point can be purchased on the event's registration and ticket page. For information about sponsorship opportunities, please visit the event's webpage or contact the SMCC Foundation at foundation@smccME.edu or 207-741-5559.
The SMCC Foundation raises funds that are used to enhance academic programs, revitalize classrooms and equipment, and provide scholarship support for deserving students. In any given year, the Foundation awards scholarships of over $300,000 to nearly 300 students, with scholarship applications far exceeding the available funding.