Associate Degree in Information Technology
On this page:

About This Program
The future of Information Technology (IT) is full of possibilities. The Information Technology program offers different tracks:
For transfer students looking to continue to a four-year institution to complete a Bachelor of Science in Information Technology, SMCC created a curriculum to ensure all credits will be relevant and transferable.
For students looking to directly enter the workforce, SMCC offers customizable career-focused tracks to prepare students for high-demand IT positions that local businesses are looking to fill today.
The curriculum, which includes hands-on experience and industry-relevant theory, is designed so students develop critical thinking skills and a well-rounded knowledge of IT topics. The courses are aligned with major industry certifications, and students are encouraged to earn the certifications that will help advance their careers in the IT industry.
The program provides students with experience in basic and advanced networking, security, basic and advanced virtualization, database design and management, and both Linux and Windows-based server and client operating systems. Students are also exposed to project management best practices and will gain an understanding of how IT fits into business organizations.
Career opportunities for our graduates include systems administrator, network engineer and IT consultant.
Your Degree Courses
Information Technology offers an Associate in Applied Science degree requiring a mix of general education and hands-on courses. The following courses are a sampling of what you might take as a student in this program and are subject to change.
Program Course Sampling
Introduction to Information Technology
Networking Fundamentals
Database Fundamentals
Virtualization Fundamentals
Linux System Administration
Principles of Computer Science
Network Security Fundamentals
Windows Server and Active Directory Fundamentals
Current Major-Specific Courses Available
Interested in seeing some of the current major-specific courses being offered as a part of this degree program?
Graduation Requirements
Prospective Students
If you are thinking about attending SMCC and are curious what the current program course requirements are to earn your degree, download the current SMCC Course Catalog.
Current Students
If you are a current student, your program requirements may be different than those listed for the current catalog year. To view your specific program requirements or to search and register for courses, log in to MySMCC and visit the MyDegree webpage.
Graduation Outcomes
Manage, maintain and assess enterprise-class IT infrastructures.
Leverage technology solutions to solve real-world business problems.
Design, build and diagnose robust and secure data networks.
Estimated Degree Completion Time


Please note, these estimates are based on a student taking an average of 15 credits per semester and do not include college preparatory or developmental courses.
Program Costs
View an estimate of costs to complete this program:

SMCC Graduates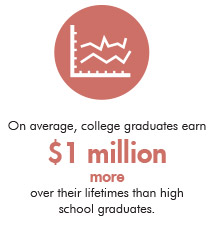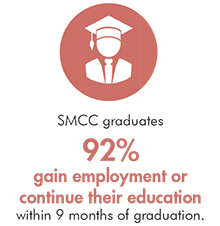 ---
Transfer Agreements for Information Technology
Public Administration, BS
University of Maine Augusta
SMCC Degree Program: Information Technology
View this Agreement »