Associate in Applied Science Degree in Early Childhood Education
On this page:

About This Program
The Early Childhood Education program is designed to prepare individuals as skilled Early Childhood Education professionals. Graduates will meet state licensing standards for immediate entry into the field or to transfer to a four­year institution. The coursework combines theory and practical experiences based on standards set by the National Association for the Education of Young Children (NAEYC). In conjunction with the Early Childhood Education program, Spring Point Children's Center provides quality educational experiences for preschool children, ages 3 to 5. This on­campus, NAEYC-accredited center is a valuable resource providing a laboratory setting for students in the program.

Your Degree Courses
Early Childhood Education offers an associate in applied science degree requiring a mix of general education and early childhood education courses. The following list of courses is a sampling of what you might take as a student in this program. The course list is subject to change.
Program Course Sampling
Introduction to Early Childhood Education
Child Development
Infant and Toddler Care Giving
Positive Guidance
Student Teaching Practicum I & II
Children's Literature and Language Arts
Teaching Young Children with Exceptionalities
Observation and Record Keeping
Curriculum Development for Young Children
Current Major-Specific Courses Available
Interested in seeing some of the current major-specific courses being offered as a part of this degree program?
Graduation Requirements
Prospective Students
If you are thinking about attending SMCC and are curious what the current program course requirements are to earn your degree, download the current SMCC Course Catalog.
Current Students
If you are a current student, your program requirements may be different than those listed for the current catalog year. To view your specific program requirements or to search and register for courses, log in to MySMCC and visit the MyDegree webpage.
Graduation Outcomes
Promote child development and learning
Build family and community relationships
Observe, document, and assess to support young children and families
Demonstrate developmentally effective approaches
Apply content knowledge to build meaningful curriculum
Estimated Degree Completion Time


Please note, these estimates are based on a student taking an average of 15 credits per semester and do not include college preparatory or developmental courses.
SMCC Graduates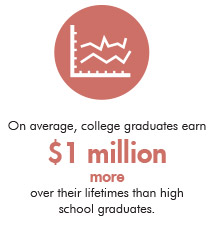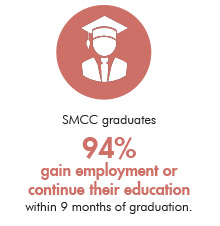 University of Maine Farmington's Off-Campus Program
Now you can earn a bachelor's degree from University of Maine Farmington (UMF) in Early Childhood Education at SMCC's South Portland Campus.
UMF and SMCC have partnered to make earning a bachelor's degree easier than ever. Whether you're a working professional looking for a more flexible schedule or are simply looking to continue your education closer to home, UMF's Off-Campus Program is a great way to earn your bachelor's degree when and where it works for you. This program is also a fantastic opportunity for those who want to get started by earning their associate degree at SMCC in Early Childhood Education and/or Education and continue on to earn bachelor's degree from UMF on the same campus. If you have earned an associate degree or equivalent at other institutions you may also be eligible to enroll.
Benefits:
Offered at SMCC's South Portland Campus, a convenient location for those who live and/or work in Southern Maine.
Designed to work with your busy schedule with hybrid courses (off-site and online) offered weekday evenings or weekends.
Courses delivered by UMF professors.
An on-site UMF Advisor to help guide you to reaching your goals.
Access to both SMCC and UMF resources.
General education courses available at SMCC's low tuition rate, only $92 per credit hour.
Available Bachelor's Degree Tracks
Non-Certificate Track – Birth-5 years
Certification Track – Birth-5 years
Certification Track – K-3rd grade
For More Information and to Apply
Visit the UMF website and follow the steps to apply, or contact Julia Jeremias at 207-778-7274 or julia.jeremias@maine.edu.

---
Transfer Agreements for Early Childhood Education
Early Childhood Ed – Birth to 5 certification, BS
University of Maine Farmington
SMCC Degree Program: Early Childhood Education
View this Agreement »
Early Childhood Ed – K-3 certification, BS
University of Maine Farmington
SMCC Degree Program: Early Childhood Education
View this Agreement »
Early Childhood Education, BS
University of Maine
SMCC Degree Program: Early Childhood Education
View this Agreement »