Associate in Applied Science Degree in Early Childhood Education
On this page:

About This Program
The Early Childhood Education program is designed to prepare individuals as skilled early childhood professionals. Graduates will have the skills and knowledge to work and teach in a variety of early childhood settings. The coursework combines theory and practical experience to prepare graduates for immediate entry into the field or transfer to a four-year institution. In conjunction with the Early Childhood Education program, the Spring Point Children's Center provides quality educational programming for preschool-aged children. This on-campus childcare center is a valuable resource where students can see and experience early childhood education in action.

Your Degree Courses
Early Childhood Education offers an associate in applied science degree requiring a mix of general education and early childhood education courses. The following list of courses is a sampling of what you might take as a student in this program. The course list is subject to change.
Program Course Sampling
Introduction to Early Childhood Education
Child Development
Infant and Toddler Care Giving
Interactive Environments
Practicum/Seminars I, II, and III
Children's Literature and Language Arts
Early Childhood Special Needs
Observation and Record Keeping
The Developing Curriculum
Current Major-Specific Courses Available
Interested in seeing some of the current major-specific courses being offered as a part of this degree program?
Graduation Requirements
Prospective Students
If you are thinking about attending SMCC and are curious what the current program course requirements are to earn your degree, download the current SMCC Course Catalog.
Current Students
If you are a current student, your program requirements may be different than those listed for the current catalog year. To view your specific program requirements or to search and register for courses, log in to MySMCC and visit the MyDegree webpage.
Graduation Outcomes
Demonstrate an understanding of young children's typical and atypical characteristics based upon multiple influences on development and learning (birth–age 8).
Apply theories of child development to plan inclusive, developmentally appropriate curriculum.
Articulate priorities for the care of infants and toddlers in group settings.
Create environments that are healthy, respectful, supportive and challenging for all children.
Understand the value and importance of children's families and cultural communities in shaping the development of the child.
Create materials that reflect an understanding of the importance of early literacy and language-rich environments.
Develop respectful and reciprocal relationships with families that encourage families to be involved in their child's development and learning.
Identify how community agencies and services support children, families and providers.
Demonstrate the skills of observation and record-keeping as an inherent component of planning for the ongoing development of the child.
Estimated Degree Completion Time


Please note, these estimates are based on a student taking an average of 15 credits per semester and do not include college preparatory or developmental courses.
SMCC Graduates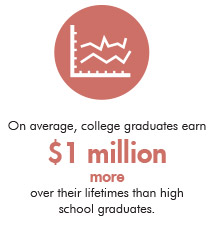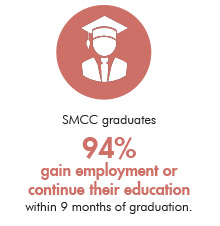 ---
Transfer Agreements for Early Childhood Education