Associate Degree in Computer Science
On this page:

About This Program
The study of computer science involves both the theory and the practice of solving problems by computer. It describes the analysis, design, implementation and application of algorithms in order to solve complex problems. While computer science requires the study and use of several programming languages, the discipline as a whole encompasses much more; theoretical and practical mathematics, design and analysis of algorithms, and modeling of large systems are all part of computer science.
The Associate in Science degree in Computer Science is designed to prepare students for immediate entry into the workforce or for transfer to a bachelor's degree program. From robotics to programmatic alteration of media to mobile applications, students receive instruction in both practical and theoretical aspects of computer science. The program offers a range of courses that will enhance students' competencies in programming languages and their applications to solve problems.
One major advantage of attending a community college is the possibility of close association with faculty and fellow students. Students who choose to study computer science at SMCC receive the benefit of small classes and the supportive environment that a community college provides.
Your Degree Courses
Computer Science offers an Associate in Science degree requiring a mix of general education and hands-on courses. The following courses are a sampling of what you might take as a student in this program and are subject to change.
Program Course Sampling
World of Computing
Principles of Computer Science
Object Oriented Design and Programming
Computer Organization
Data Structures
Computer Science Electives
English Composition
Current Major-Specific Courses Available
Interested in seeing some of the current major-specific courses being offered as a part of this degree program?
Graduation Requirements
Prospective Students
If you are thinking about attending SMCC and are curious what the current program course requirements are to earn your degree, download the current SMCC Course Catalog.
Current Students
If you are a current student, your program requirements may be different than those listed for the current catalog year. To view your specific program requirements or to search and register for courses, log in to MySMCC and visit the MyDegree webpage.
Graduation Outcomes
Work with various number systems and with Boolean logic.
Describe algorithms and program behavior using UML.
Select appropriate algorithms and data structures for a variety of problems.
Diagram computer hardware and its architecture, and use low-level programming languages such as assembly language.
Create computer programs in several languages, incorporating concepts such as variables, loops, arrays, objects, and other common programming constructs.
Estimated Degree Completion Time

Please note, these estimates are based on a student taking an average of 15 credits per semester and do not include college preparatory or developmental courses.
Program Costs
View an estimate of costs to complete this program:

SMCC Graduates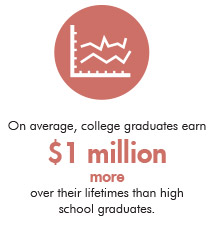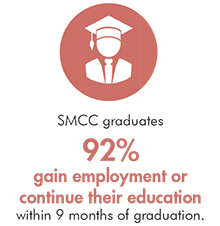 ---
Transfer Agreements for Computer Science