Associate Degree in Communications & New Media Studies
On this page:

About This Program
Communications & New Media Studies is a multimedia program that prepares students for careers as media producers. Media producers create designed solutions through the integration of design technologies and fine art. They design and develop websites, produce and edit video and audio, create a variety of 2D and 3D animation projects, and design and develop applications for web and smart devices and a wide array of printed products. This is a hands-on program providing students with access to industry-standard software and gear through work in state-of-the-art labs.
The program provides students with a strong foundation in web, video/audio and print media. Once the fundamental courses have been completed, students can choose to specialize by selecting from a flexible menu of advanced curriculum options including digital imaging, design and illustration, video and audio production, animation or website production. Students in the program can transfer to a baccalaureate program in visual communication or art. The program is designed to prepare students for entry-level employment in graphics and production.
Your Degree Courses
Communications & New Media Studies offers an Associate in Applied Science degree requiring a mix of general education and hands-on courses. The following courses are a sampling of what you might take as a student in this program and are subject to change.
Program Course Sampling
Introduction to Mass Communication
Digital Foundations, Design, and Illustration
2D Design
Writing for Visual Media
Digital Art I, Video & Audio Production Basics, or Web Production
Current Major-Specific Courses Available
Interested in seeing some of the current major-specific courses being offered as a part of this degree program?
Graduation Requirements
Prospective Students
If you are thinking about attending SMCC and are curious what the current program course requirements are to earn your degree, download the current SMCC Course Catalog.
Current Students
If you are a current student, your program requirements may be different than those listed for the current catalog year. To view your specific program requirements or to search and register for courses, log in to MySMCC and visit the MyDegree webpage.
Graduation Outcomes
Demonstrate the ability to incorporate language, visual images and sounds using a variety of digital media formats to influence thought, emotions and behaviors.
Analyze and assess the influence of mass media on individual perceptions, social behaviors and cultural change.
Analyze, assess and critique media productions for accuracy of information, audience relevance, aesthetic style, balance of perspectives and overall effectiveness.
Demonstrate a respect for a diversity of ideas and concepts within a group environment and the ability to effectively communicate personal viewpoints and criticism.
Demonstration of professional practices.
Estimated Degree Completion Time


Please note, these estimates are based on a student taking an average of 15 credits per semester and do not include college preparatory or developmental courses.
Program Costs
View an estimate of costs to complete this program:

SMCC Graduates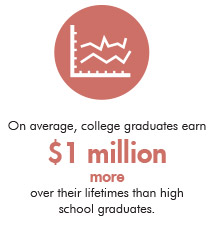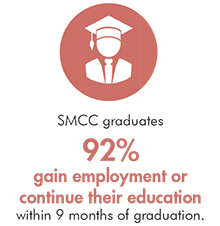 ---
Transfer Agreements for Communications & New Media Studies
Bachelor of Arts in Communications
University of New England
SMCC Degree Program: Communications & New Media Studies
View this Agreement »