Associate Degree in Criminal Justice
On this page:

About This Program
The Criminal Justice program provides students with the skills and abilities they need to succeed in dynamic and rewarding criminal justice careers. Students will find career opportunities in law enforcement, forensics, corrections, probation/parole, private security and investigations, and juvenile and adult protective services.
The professional expertise of the faculty provides an important blending of academic accomplishment and practical experience. Students benefit from their professors' real-world expertise in police patrol, investigations, evidence technology/forensics, crime scene reconstruction, drug and selective enforcement, supervision, management/leadership, corrections and criminal prosecution. Career guidance and networking opportunities with criminal justice agencies and practitioners further enhance students' academic preparation and career success.
Your Degree Courses
The Associate of Applied Science degree in Criminal Justice requires a mix of general education and hands-on courses. The following courses are a sampling of what you might take as a student in this program and are subject to change.
Program Course Sampling
Introduction to Criminal Justice
Introduction to Criminology
Laws of Arrest, Search, and Seizure
Criminal Justice electives
Current Major-Specific Courses Available
Interested in seeing some of the current major-specific courses being offered as a part of this degree program?
Graduation Requirements
Prospective Students
If you are thinking about attending SMCC and are curious what the current program course requirements are to earn your degree, download the current SMCC Course Catalog.
Current Students
If you are a current student, your program requirements may be different than those listed for the current catalog year. To view your specific program requirements or to search and register for courses, log in to MySMCC and visit the MyDegree webpage.
Graduation Outcomes
Apply substantive criminal law and the law of criminal procedure as used by practitioners in the criminal justice field.
Demonstrate knowledge of substantive and procedural due process as it relates to the criminal justice system.
Demonstrate knowledge of how practitioners in the criminal justice field use science and technology.
Demonstrate knowledge of the predominant theories of criminal behavior.
Estimated Degree Completion Time


Please note, these estimates are based on a student taking an average of 15 credits per semester and do not include college preparatory or developmental courses.
Program Costs
View an estimate of costs to complete this program:

SMCC Graduates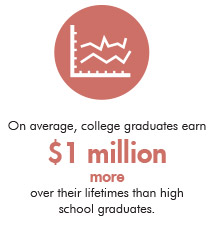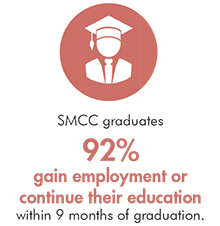 ---
Transfer Agreements for Criminal Justice
Public Administration, BS
University of Maine Augusta
SMCC Degree Program: Criminal Justice
View this Agreement »