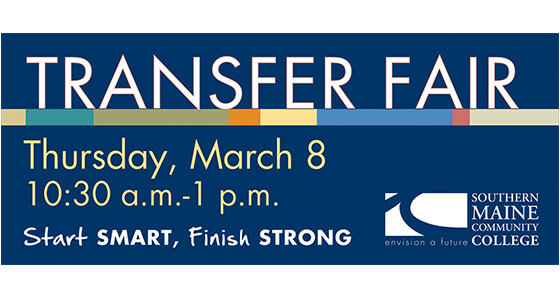 Transfer Fair to make encore performance
SMCC is hosting a transfer fair during the spring semester for the first time, where students can learn more about transfer opportunities to colleges and universities in Maine and elsewhere in New England.
The College holds a transfer fair each fall, but is holding a second one this year on from 10:30 a.m.-1 p.m. on Thursday, March 8, in the Campus Center.
At the fair, students can do some one-stop transfer shopping by learning about the participating schools' academic programs, financial aid, student life and other things that go into deciding where to transfer.
"There's been a lot of interest in having a second transfer fair, in the spring," said Margie Fahey, Associate Dean of Curriculum Design & Development. "Colleges and students have been asking for this."
This year's participants include public and private schools, both small and large, from across Maine and New England.
Bryant University — Rhode Island
Husson University — Maine
Johnson & Wales University — Rhode Island
Kaplan University — Maine
Maine College of Art — Maine
Merrimack College — Massachusetts
Northeastern University College of Professional Studies — Massachusetts
Regis College — Massachusetts
Roger Williams University — Rhode Island
Southern New Hampshire University — New Hampshire
St. Joseph's College — Maine
Thomas College — Maine
University College — Maine
University of Maine at Orono
University of Maine at Farmington
University of Maine at Fort Kent
University of Maine at Machias
University of New England — Maine
University of Southern Maine
Unity College —Maine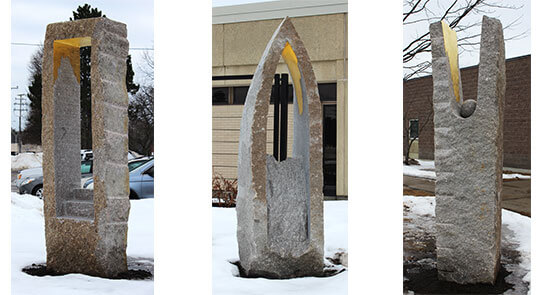 New sculptures installed on Midcoast Campus
Three new sculptures have been installed on the Midcoast Campus in Brunswick representing themes of destination, ambition and thought.
The sculptures, located in front of the L.L.Bean Learning Commons, the Academic Building and Orion Hall, were made by sculptor Thomas Berger of Kittery. The stone pillars used to make the sculptures stand about 10 feet tall and are meant to be simple and with a degree of abstraction.
The three columns represent:
Destination. This pillar is in the shape of a boat hull and symbolizes movement, exploration and destiny.
Ambition. Cut in the shape of a window or door, with steps carved into the bottom of the opening, symbolizes "crossing a threshold" or "actively taking steps."
Thought. The cut-out opening on this pillar ends in a soft curve where a round sphere rests, representing a thought or an idea ready to be released through the opening in the stone.
The sculptures were made possible through Maine's Percent for Art program, which was established by law in 1979 and sponsors public art for publicly-financed buildings.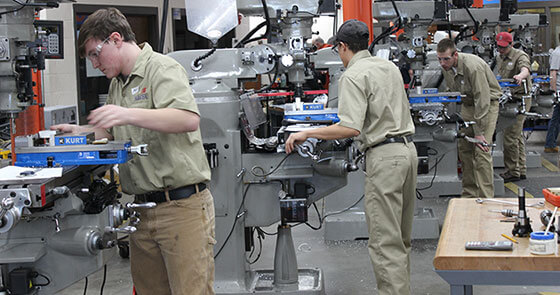 SMCC hosts SkillsUSA competition (again)
A dozen high school students from across Maine put their skills to the test on precision manufacturing tools at Southern Maine Community College for the statewide SkillsUSA Maine Precision Machining and CNC Technician Competition.
Students from Center for Technical Education schools in Biddeford, Dexter, Portland, Rockland, Sanford and Waterville manufactured a variety of metal components on manual mills and lathes in SMCC's precision machining lab for the Feb. 15 competition. Other students operated Computer Numerical Control (CNC) machine simulators for the CNC technician portion of the competition.
The winner of the CNC competition will represent Maine in the national SkillsUSA CNC technician competition in Louisville, Ky., this summer.
This was the third straight year that SMCC has hosted the competition.
"It's an honor to host this competition for a third year in a row," said John Bolduc, chair of SMCC's Precision Machining program. "Visiting students get to use the machine tools that we have that can prepare them for bright futures in Maine's manufacturing industry."
The event's sponsors included the Manufacturers Association of Maine, Haas Factory Outlet, MSC Industrial Supply, and Mason Ide of Ide Development.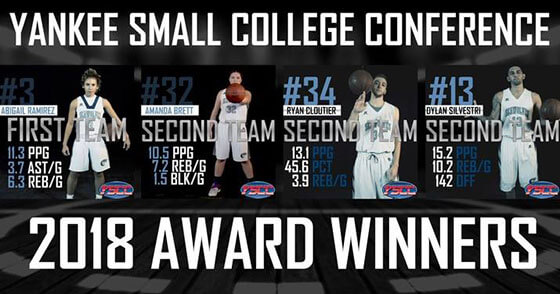 Hoops players earn all-conference accolades
Four SeaWolves basketball players were named to the Yankee Small College Conference All-Conference teams for the 2017-18 season.
The men's and women's teams ended their seasons with losses in the semifinals of the YSCC Elite 8 conference tournament on Feb. 17. The men finished the season with an overall record of 18-10, and 11-5 in conference play. The women were 19-9 and 12-4.
Four SeaWolves players were honored at the YSCC postseason awards ceremony in Concord, N.H., on Feb. 16.
Dylan Sylvestri and Ryan Cloutier were named to the men's all-conference second team. On the women's side, Abigail Ramirez was named first team all-conference, while Amanda Brett was named to the second team.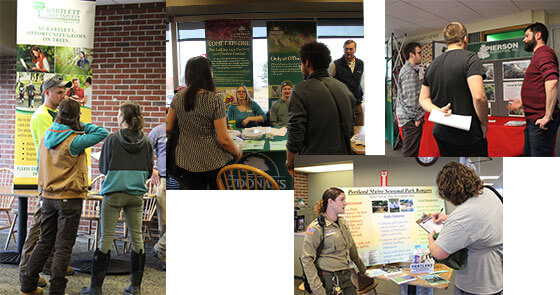 Horticulture job fair connects students to jobs
More than two dozen businesses representing a wide cross-section of the horticulture industry took part in the Feb. 21 horticulture job fair that connects students with companies looking to hire.
The job fair is a longstanding tradition at SMCC aimed at helping students in search of jobs, and helping businesses in search of summer and full-time employees.
This year's event, held in the Culinary Arts dining room, included landscape design, landscape maintenance, and property management firms, nurseries, greenhouses, botanical gardens, arborists, farms, city parks, orchards and floral designers.