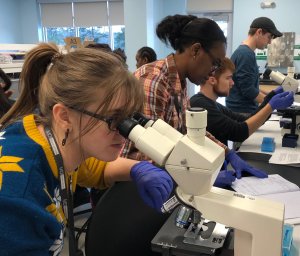 Twelve SMCC students and three faculty members spent a week over winter break in January living and working at MDI Biological Laboratory (MDIBL) in Bar Harbor as part of an intensive course conducting real-world biomedical laboratory research.
For the five-day research project, students used cell cultures of human liver cells to demonstrate that additional fatty acids in the media result in fat accumulation in the cells. These cells, grown in a dish, are a model for a condition observed in liver cells of patients with nonalcoholic fatty liver disease, a condition that, along with obesity and diabetes, can progress to more serious liver disease.
The students learned how to grow the liver-derived cells, how to stain the cells to assess fat accumulation, and how to transfect the cells with a silencing RNA to cause the cells to under-express a protein called Foxa1, which evidence suggests may inhibit fat accumulation in liver cells. The students also learned to use a technique called quantitative PCR to look for changes in expression of genes in addition to any change in fat accumulation.
The course was led by Professor Daniel Moore from SMCC and Professor Kristy Townsend from the University of Maine at Orono. SMCC adjunct Instructors Megan McCuller and Tracy Ann Filler also took part.
SMCC students who participated were Merveidie Bayingana (Biotechnology); Theo Bishop (Marine Science); Matthew Davis (Horticulture); Justin Fortin (Biotechnology); Emily Haggett (Marine Science); Alison Heyland (Nutrition & Dietetics); Sharon Jordan (Biotechnology); Jeremy Marsh (Biotechnology); Zainab Miguel (Biotechnology); Hannah Trieu (Pre-Nursing); Joseph Wright (Nursing); and Ornelly Yanga (Biotechnology).
"I learned so much and it happened to be in one of the most beautiful places on earth," Jordan said. "I'm very grateful for this opportunity."
Wright said he'd like to come back and do another short course or even an internship. "This has been a fun and truly rewarding experience," he said. "The staff at MDIBL is knowledgeable, friendly and great hosts to the students. The facility is beautiful and only makes the experience that much better."
The course is supported by an Institutional Development Award (IDeA) from the National Institutes of Health. This is the ninth year of support from the grant, and it has also paid for SMCC students to do summer fellowships at Bowdoin College, Bates College, University of New England and Maine Medical Center Research Institute.
Photo caption: From left to right, students Emily Haggett, Zainab Miguel, Jeremy Marsh and Theo Bishop count cells in a device known as a hemocytometer. Photo by Daniel Moore