Associate Degree in Precision Machining & Manufacturing
On this page:

About This Program
Precision machinists control, design, maintain, upgrade and operate modern, computer-controlled production equipment and facilities equipment used to manufacture many of the world's goods. The Precision Machining program equips its graduates with an in-depth multi-disciplinary education in mathematics, physics, engineering technology, both manual and CNC machining, manufacturing processes and methods, as well as a broad education in computer studies, business and liberal arts. Our highly skilled graduates have gone on to provide hands-on engineering and managerial services in state-of-the-art high-volume and/or high-precision manufacturing enterprises across Maine. Our graduates are currently employed in diverse industries including automotive, packaging, metalworking, power generation, aerospace, medical, defense, bottling and even private consulting companies. Our graduates specialize in precision machining with precision tools using Computer Numerical Controller (CNC) programming and operations.
Your Degree Courses
Precision Machining & Manufacturing offers an Associate in Applied Science degree in Machining requiring a mix of general education and hands-on courses. The following courses are a sampling of what you might take as a student in this program and are subject to change.
Program Course Sampling
Basic/Advanced Manual Machine Theory with Lab
CNC Machining Theory with Lab
CNC Programming with Solidworks & Camworks
Machining Internship
CAD Graphics
Parametric Modeling with Solidworks
Mechanical Design
Current Major-Specific Courses Available
Interested in seeing some of the current major-specific courses being offered as a part of this degree program?
Graduation Requirements
Prospective Students
If you are thinking about attending SMCC and are curious what the current program course requirements are to earn your degree, download the current SMCC Course Catalog.
Current Students
If you are a current student, your program requirements may be different than those listed for the current catalog year. To view your specific program requirements or to search and register for courses, log in to MySMCC and visit the MyDegree webpage.
Graduation Outcomes
Demonstrate knowledge and skills required to safely set up and operate conventional and CNC precision metalworking machinery.
Demonstrate knowledge and skills required to safely machine precision parts.
Demonstrate knowledge and skills required using CAM.
Demonstrate knowledge and skills required to inspect machined parts using various measuring equipment and gauging.
Estimated Degree Completion Time

Please note, these estimates are based on a student taking an average of 15 credits per semester and do not include college preparatory or developmental courses.
SMCC Graduates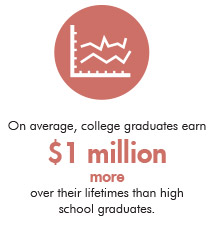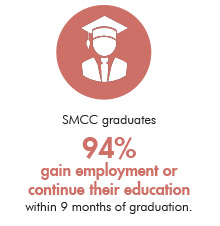 ---
Transfer Agreements for Precision Machining & Manufacturing
Industrial Technology, BS
University of Southern Maine
SMCC Degree Program: Precision Machining & Manufacturing
View this Agreement »
Technology Management Precision Manufacturing Concentration, BS
University of Southern Maine
SMCC Degree Program: Precision Machining & Manufacturing
View this Agreement »