Associate Degree in Education
On this page:

About our Education Programs
SMCC offers two education programs: Early Childhood Education and Education. The programs focus on different age/grade ranges, but both provide students with the foundational skills and experiences they need to enter their chosen fields. The Early Childhood Education (ECE) program is designed for students who are interested in teaching children from 0-8 years of age, including students in grades K-3. The Education (EDUC) program is designed for students who are interested in exploring education more broadly and/or those who wish to teach older students in specialized fields like English or Math. Both programs focus on the essential knowledge, skills, and dispositions students need to make a difference in the lives of the children with whom they work. These skills are put to use as students engage in classroom settings and externships in the local community. Throughout each step of the way, students work with supportive and experienced faculty. Our goal is to create a community of learners who work (and play!) together with all students receiving the support they need to achieve their dreams.
Graduates of the ECE and EDUC programs pursue many different paths. Some enter the work force as Ed. Tech. II in public school systems throughout the state. Others choose to become infant, toddler, or preschool teachers. Some open their own early childhood centers. Others continue on to earn their Bachelor's Degree and become certified teachers. The University of Maine at Farmington delivers their Bachelor's Degree in Early Childhood Education at SMCC. Students in the EDUC program often choose to continue on for their Bachelor's through the University of Maine system.
Out-of-State Licensure Information
If you are completing this program and will be seeking licensure in another state, please download our Out-of-State Licensure document.
About our Education Program (K-12)
The Education degree program is designed to prepare pre-service teachers with the necessary knowledge and skills for employment and/or future study in the field of K-12 education. Successful graduates experience field work in public school classrooms in each education course taken as a way to connect theory into actual practice. Topics that are covered, beyond core requirements, seek to address the theories of how human beings learn, the compelling issues related to American education, the developmental stages of literacy acquisition from birth to grade 12, and an in-depth overview on issues related to special education law and students with special needs.
Graduates of the associate degree program are eligible for certification as Educational Technician II with the designation as "highly qualified."
Your Degree Courses
SMCC offers an Associate in Science degree requiring a mix of general education and hands-on courses. The following courses are a sampling of what you might take as a student in this program and are subject to change.
Program Course Sampling
English Composition
Introduction to Literature
Freshman Interest Group Elective
Fundamentals of Math for Teachers I
Fundamentals of Math for Teachers II
Science Elective with Lab
Fine Arts or Humanities Elective
Introduction to Psychology
Introduction to Teaching
Introduction to American Education
Current Major-Specific Courses Available
Interested in seeing some of the current major-specific courses being offered as a part of this degree program?
Graduation Requirements
Prospective Students
If you are thinking about attending SMCC and are curious what the current program course requirements are to earn your degree, download the current SMCC Course Catalog.
Current Students
If you are a current student, your program requirements may be different than those listed for the current catalog year. To view your specific program requirements or to search and register for courses, log in to MySMCC and visit the MyDegree webpage.
Graduation Outcomes
Demonstrate an understanding of "best practice" in teaching that promotes optimal learning for all students.
Demonstrate an understanding of the major issues in public education today that inform the organization of schools in the 21st century.
Understand the federal and state laws that define resources and supports for special education students as defined by IDEA and understand the myriad of disabilities that are identified in students in public schools.
Identify and select interventions that promote growth toward goals set out in an individual's IEP.
Understand the components of literacy acquisition from birth to grade 12 and understand how to think about teaching literacy for optimum learning with an eye toward developing competent and confident readers.
Understand the need for collaboration with peers and colleagues as a tool to continually learn and perfect the craft of teaching.
Estimated Degree Completion Time


Please note, these estimates are based on a student taking an average of 15 credits per semester and do not include college preparatory or developmental courses.
Certificate Programs
Education offers an advanced certificate in Education which requires a mix of general education and hands-on courses. For more information, visit our Advanced Education Certificate webpage.
Program Costs
View an estimate of costs to complete this program:

SMCC Graduates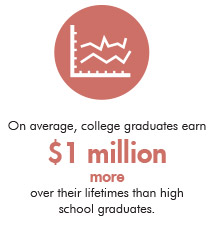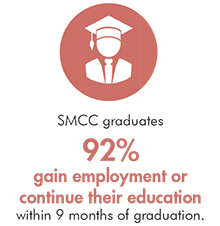 ---
Transfer Agreements for Education