Associate Degree in Cyber Security
On this page:

About This Program
The Cyber Security program gives students an opportunity to train in one of the fastest-growing areas in IT (Information Technology), known as Information Security and Security Assurance. The program covers a wide range of topics including computer forensics, ethical hacking, laws, policies, network security and physically securing systems in a data center. The curriculum is designed to aid students in preparing for many of the certification exams in the field. The curriculum will include large amounts of hands-on experience along with simulation training and group/team-based learning to simulate a professional work environment.
The curriculum is designed to prepare students for the most popular certification exams, which include:
CCENT (Cisco Certified Entry Networking Technician)
CCNA (Cisco Certified Network Associate)
CISSP (Certified Information Systems Security Professional)
CompTia Network+ Computing Technology Industry Association
CompTia Security+ Computing Technology Industry Association
The program provides students experience in network infrastructures, Cisco routers, Cisco switches, wireless routers, and security procedures, tools and software.
Career opportunities for graduates include: Information Security Analyst, Incident Responder, Network Security Engineer, Chief Information Security Officer, Information Security Architect and Forensics Analyst.
National Center of Academic Excellence
SMCC's Cyber Security Program has been designated as a National Center of Academic Excellence in Cyber Defense Education by the U.S. National Security Agency (NAS) and the Department of Homeland Security (DHS). The NSA and the DHS jointly sponsor the National Centers of Academic Excellence program.
The Cyber Security Educational Center provides the community with information on our Cyber Security Program, courses, club activities and events. The Cyber Security Center provides links to give the latest information on cyber security vulnerabilities and breaches. To learn more, visit our Cyber Security Center webpage.
Your Degree Courses
Cyber Security offers an Associate in Applied Science degree requiring a mix of general education and hands-on courses. The following courses are a sampling of what you might take as a student in this program and are subject to change.
Program Course Sampling
Introduction to Computer Technology
Discrete Math or Higher
English Composition
Network Fundamentals
Fundamentals of Network Security
Computer Forensics
Information Security and Ethics
Current Major-Specific Courses Available
Interested in seeing some of the current major-specific courses being offered as a part of this degree program?
Graduation Requirements
Prospective Students
If you are thinking about attending SMCC and are curious what the current program course requirements are to earn your degree, download the current SMCC Course Catalog.
Current Students
If you are a current student, your program requirements may be different than those listed for the current catalog year. To view your specific program requirements or to search and register for courses, log in to MySMCC and visit the MyDegree webpage.
Graduation Outcomes
Configure and maintain network infrastructures.
Create and maintain security policies and procedures
Identify security threats in LAN (local area network),
WAN (wide area network) and virtual environments.
Write security procedures and policies.
Estimated Degree Completion Time


Please note, these estimates are based on a student taking an average of 15 credits per semester and do not include college preparatory or developmental courses.
Program Costs
View an estimate of costs to complete this program:

SMCC Graduates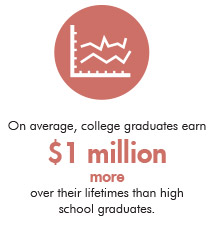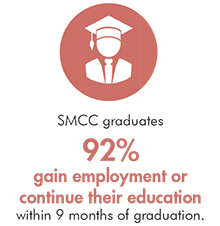 ---
Transfer Agreements for Cyber Security