Associate Degree in Marine Science
On this page:

About This Program
The Marine Science program provides students with the academic background and applied skills required for employment as research assistants and technicians in a variety of aquatic and environmental fields. The curriculum emphasizes hands-on laboratory and field procedures. Skills learned are commonly used by professionals working for companies and organizations involved in aquatic research and ecosystem management. Special attention is given to collecting and identifying a diversity of marine organisms and performing oceanographic sampling procedures aboard our own research vessel. Students have service learning experiences in the southern Maine community and learn microbiology and chemistry laboratory techniques. Many graduates of the program have found employment with public and private marine biology laboratories, state and federal marine resource agencies, state and federal environmental protection agencies, environmental consulting firms, and water districts and pollution control facilities.
Your Degree Courses
Marine Science offers an Associate in Science degree requiring a mix of general education and hands-on courses. The following courses are a sampling of what you might take as a student in this program and are subject to change.
Program Course Sampling
Biology I & II with Lab
Chemistry I & II with Lab
Microbiology
Invertebrate Zoology
Marine Botany with Lab
Ecology with Lab
Fishery Science with Lab
Elements of Nautical Science
Current Major-Specific Courses Available
Interested in seeing some of the current major-specific courses being offered as a part of this degree program?
Graduation Requirements
Prospective Students
If you are thinking about attending SMCC and are curious what the current program course requirements are to earn your degree, download the current SMCC Course Catalog.
Current Students
If you are a current student, your program requirements may be different than those listed for the current catalog year. To view your specific program requirements or to search and register for courses, log in to MySMCC and visit the MyDegree webpage.
Graduation Outcomes
Communicate effectively, using the language, concepts and models of marine science.
Estimated Degree Completion Time

Please note, these estimates are based on a student taking an average of 15 credits per semester and do not include college preparatory or developmental courses.
SMCC Graduates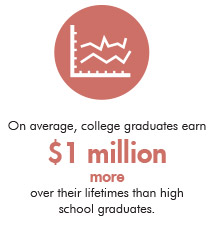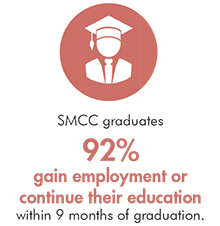 ---
Transfer Agreements for Marine Science
Environmental Studies, BS
University of Southern Maine
SMCC Degree Program: Marine Science
View this Agreement »