Associate Degree in Pre-Engineering
On this page:

About This Program
Engineering involves the arrangement and modification of natural materials to produce devices and processes in order to accomplish human goals expeditiously, economically and safely. Engineering education is divided into such fields as aeronautical, agricultural, biomedical, chemical, civil, electrical, industrial, material, mechanical and nuclear.
The pre-engineering program at SMCC is a two-year program that helps students determine if they are interested in engineering and prepares them to transfer to a bachelor's-level engineering program. The program focuses on developing a fundamental knowledge of physics, chemistry and mathematics, and provides an introduction to engineering. In addition, students take classes in English, communication, the social sciences and humanities.
One major advantage of attending a community college is the possibility of close association with faculty and fellow students. Students who choose to study engineering at SMCC believe that small classes in the basic engineering, science and math courses and the supportive environment and personal attention of a community college are important in giving them a start toward a satisfying career in engineering.
Your Degree Courses
Pre-Engineering offers an Associate in Science degree requiring a mix of general education and hands-on courses. The following courses are a sampling of what you might take as a student in this program and are subject to change.
Program Course Sampling
Chemistry for Engineers with Lab
Circuits I and II
Introduction to Engineering
Engineering Statics
Strength of Materials
Current Major-Specific Courses Available
Interested in seeing some of the current major-specific courses being offered as a part of this degree program?
Graduation Requirements
Prospective Students
If you are thinking about attending SMCC and are curious what the current program course requirements are to earn your degree, download the current SMCC current Course Catalog.
Current Students
If you are a current student, your program requirements may be different than those listed for the current catalog year. To view your specific program requirements or to search and register for courses, log in to MySMCC and visit the MyDegree webpage.
Graduation Outcomes
Develop expertise in and practice mathematical principles as they apply to the fields of Physics and engineering.
Understand the role of chemistry in our physical and biological environment as it pertains to atomic and molecular structure, the laws of thermodynamics and how energy is exchanged between systems.
Estimated Degree Completion Time


Please note, these estimates are based on a student taking an average of 15 credits per semester and do not include college preparatory or developmental courses.
Program Costs
View an estimate of costs to complete this program:

SMCC Graduates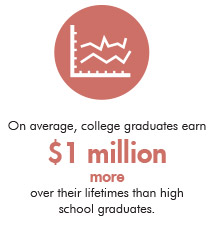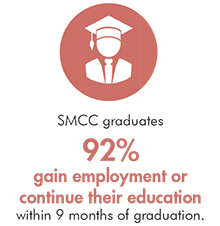 ---
Transfer Agreements for Pre-Engineering