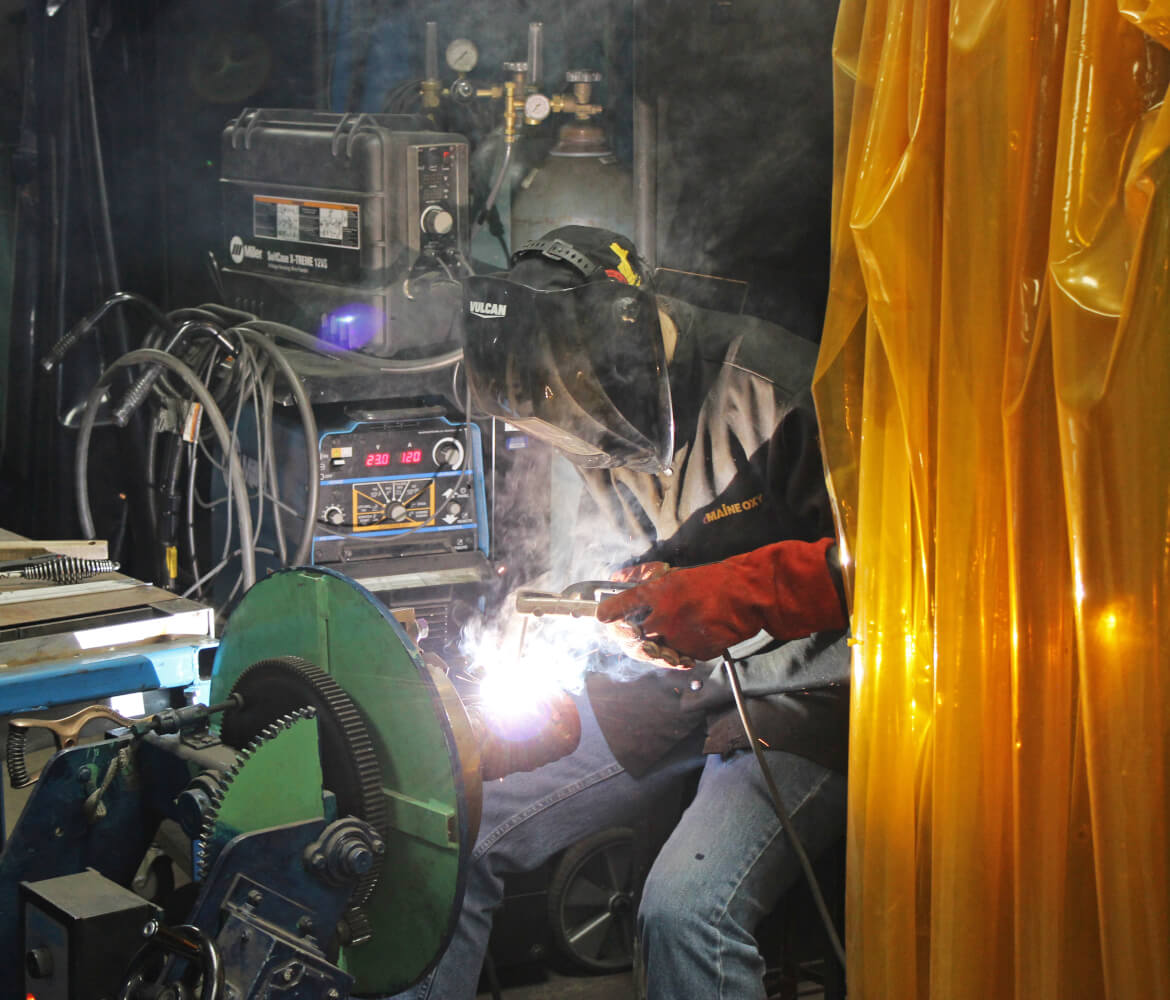 A dozen students are learning in-demand welding skills in a workforce training class at Southern Maine Community College (SMCC) funded by a grant from the Harold Alfond Foundation.
The 170-hour structural welding class is held in the SMCC South Portland Campus welding lab and continues into March. Students who successfully complete the class are eligible for American Welding Society certification, and several of them already have job leads.
Among the students is Talia Cross, who is planning to launch a welding career after finishing the course. Cross worked as a fashion stylist in New York City before moving to Maine, and she now works as a stylist at a clothing boutique in Portland. Ready for a change, she enrolled in the class and is looking forward to a welding career with job security and competitive wages.
"I've heard about a lot of welding opportunities in Maine," she said during a recent class. "I've learned pretty fast how to weld, and by the end of the course I feel I'll be ready to enter the workforce as a welder."
The class is funded through the Harold Alfond Foundation's $3.6 million, three-year grant to the Foundation for Maine's Community Colleges in 2018. The grant has enabled Maine community colleges to launch 11 new workforce training programs focused on health care, information technology, construction, manufacturing and the trades.
Besides the welding class at SMCC, other courses funded by the grant include medical assisting at SMCC and Eastern Maine Community College; welding at Kennebec Valley Community College; and a computer support program at Central Maine Community College.
The SMCC welding course is held two days a week, from 4 p.m. to 8 p.m. With sparks flying from welding booths inside the welding lab, Brian Cross described how he pursued a career in the photography field in Los Angeles and New York for many years before moving back to his native Maine a couple of years ago.
He's now working in construction, but wants to diversify his skills in a field where he can work with his hands. So he and his wife, Talia Cross, enrolled in the class together.
"I'm in love with welding," he said. "I work eight hours a day and I'm here until 8 or 9 at night. But I could be here until 2:30 in the morning if they let me."
Several of the students in the class already have job prospects with companies once they complete the course, said John Gallagher, who teaches the class. Those opportunities, he said, are in fields that include shipbuilding, bridge construction and wood stove manufacturing.